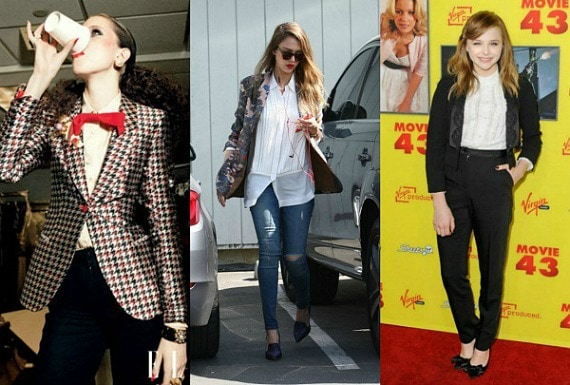 Photo Credits: ELLE, Pacific Coast News, and ELLE
While menswear-inspired fashion for females is nothing new (think Marlene Dietrich and Katharine Hepburn), there is a fabulous new fad inspired by the boys. The tuxedo blouse is becoming increasingly popular in women's fashion. Not to be confused with a traditional oxford shirt, these crisp, white blouses have detailed paneling on the front. Sometimes they even include added embellishments like ruffles and colored piping.
Of course, a tuxedo top adds a touch of traditional formality to any outfit, but there are many ways to wear it. As seen above, Chloë Moretz created a red-carpet-worthy menswear-inspired outfit centered around this trend, while Jessica Alba dressed down a tuxedo blouse with jeans and smoking slippers.
Below are our favorite finds from around the 'net. Although it's next to impossible to choose a favorite, we are fond of the sleeveless versions. If you're concerned about being chilly in the fall months that lie ahead, they would look fab with a jacket or blazer thrown over top.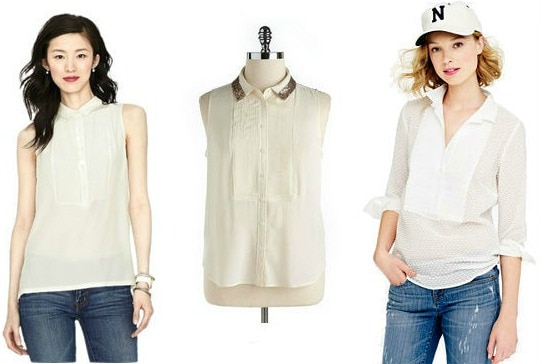 Product Information: Fossil, Lord & Taylor, J. Crew
Would you wear a tuxedo top?
Or is this polished style too prim for your taste? Would you wear it dressed up for a night out, or casually with jeans? Do you like the sleeveless and embellished versions better than the traditional starchy-white style? Leave a comment below and let's talk about it!