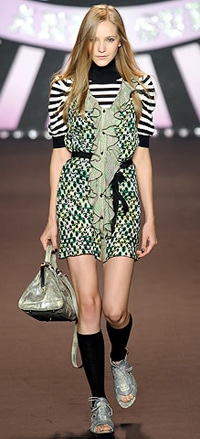 From left: On the runway at Anna Sui, Emma Roberts in The Row, On the runway at Christian Lacroix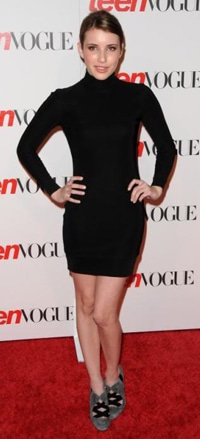 I remember turtlenecks in the nineties – plain, dumpy, perhaps neon velvet – certainly nothing I would care to think about now. Like many trends passed and dismissed, however, the turtleneck has become revamped, both in the ways we wear it and in the way it looks.
Embellishments such as puffed sleeves, ruffles, or the fitting of the bodice make the turtleneck significantly more stylish, intriguing and wearable than it was a few years ago. Changes in the way a turtleneck is adapted into an item of clothing are also apparent. A turtleneck mini dress like Emma Roberts' is a sophisticated way to show off skin, and a sleeveless turtleneck like the one Kristin Cavallari wore to one of Bebe's collection previews is sexy and simple.
The key to pulling off a turtleneck is the way you wear it. Shorter, sleeker, or flirtier skirts make the look chic and pretty instead of plain or dumpy. Breaking the look up is also important, especially for us girls with larger chests. While this may just involve a print or two thrown into the look for some, turtlenecks are utterly unwearable for others unless worn creatively, such as under a dress or a vest. This breaks up the top visually and prevents one from looking larger than necessary or lumpy.
Check out a couple of looks inspired by the runway below.
Outfit #1: Broken Up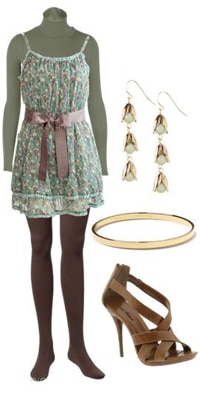 Product Information: Turtleneck: Balenciaga, Floral Dress: Miso, Brown Tights: Relish, Strappy Sandals: Michael Antonio, Gold Bracelet: Kate Spade, Flower Earrings: Old Navy
Outfit #2: Surprisingly Chic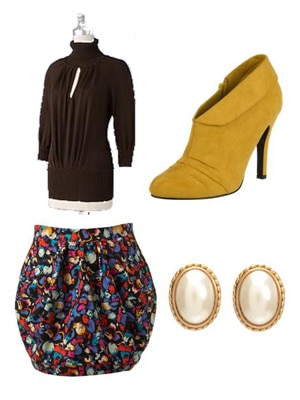 Product Information: Keyhole Turtleneck: Gloria Vanderbilt, Suede Booties: Charlotte Russe, Earrings: Amrita Singh, Floral Miniskirt: Miss Selfridge
Thoughts?
Would you wear a turtleneck? Do you find the look sleek or does it just send you on horrible flashbacks of your childhood? Let me know in the comments!