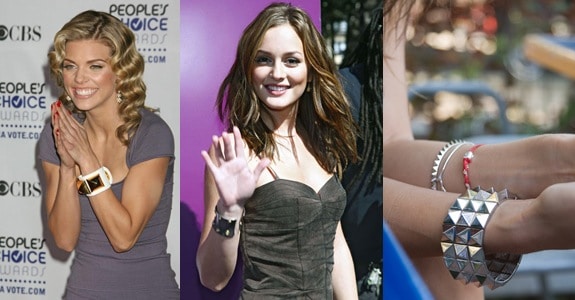 Annalynne McCord, Leighton Meester, and Rumi from Fashion Toast wearing studded cuffs.
Studs are a huge trend in fashion right now, adding a rocker touch to everything from handbags and footwear to belts and jackets. It's a nod to classic punk styles of the past and a great One of the most popular ways to wear studs lately has been in the form of a studded bracelet, old school Hot Topic style.
Celebrities like Annalynne McCord and Leighton Meester have been spotted wearing studded cuffs with pretty dresses on the red carpet, officially bringing this trend to the mainstream. It's definitely a fun look that's a little unexpected… but is it wearable in real life?
Now I have to admit, I owned one of these studded cuffs during a rebellious phase in high school, way before they were "fashionable", so it's definitely weird to see them on the wrists of celebrities and fashion people alike right now. That said, I like that studs are back and think the studded cuff is a great way to add a little bit of a rocker edge to an otherwise demure outfit.
So what do you think? Would you wear a studded cuff? Have you been rocking studs this season? Leave a comment and let me know what you think!