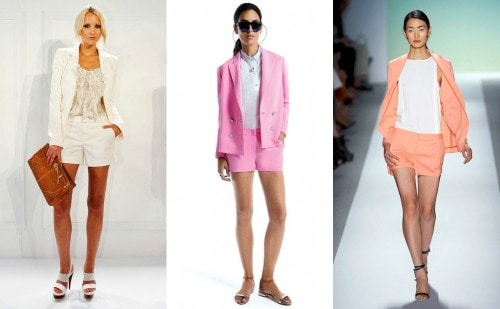 Short suits spotted in many Spring 2012 collections including Rachel Zoe, Jenni Kayne, and Tibi.
Photos courtesy of Elle.com.
I have a secret: I've been avoiding writing about short suits. Every time I spied one on the Spring runways or saw a headline about this emerging trend, I got a bad taste in my mouth. Could a match-y match-y short suit be any more bland? Yet another pastel blazer-plus-dress-shorts combo? I kept putting it off as a Would You Wear? column with the hopes that it would not escalate past a short-lived fad, not worthy of the classification of a trend.
But as I opened my glossy March fashion mags, they were everywhere. Alright, I convinced myself, College Fashion readers need to know the scoop on this trend. Then something miraculous happened. As I researched these looks, I found myself pinning them to my Pinterest boards. I found them growing on me. Resistance was futile: I wanted a short suit hanging in my closet. Two. Three. Maybe one in neon orange.
So there you have it, my dear College Fashion readers: Short suits are the new thing and they are everywhere. Runways and fashion blogs are certainly obsessed with them, but I'm a bit unsure of how wearable they are. Is the common college fashionista going to throw one on for class? Probably not. Are they professional enough for work? Depends on the length of the shorts.
Here's the one that ultimately changed my mind (and how I'd wear it!)…

Product Information: Blazer & Shorts – ASOS, Tank – H&M, Shoes – Heels, Bag – Bluefly, Nail Polish – Zappos
Are you pro-short suits or anti-short suits?
How do you feel about the short suits trend? Would you wear one? Why or why not? How would you style it? Are these professional enough to wear to work? Leave a comment below and let's discuss it!