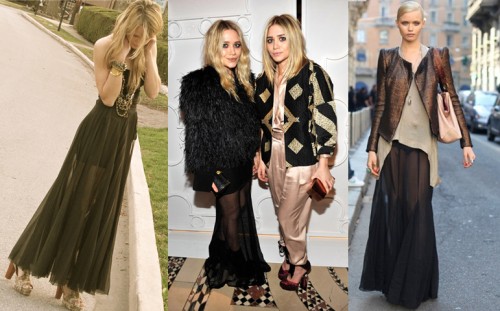 No, this isn't just something Lady Gaga wore once – the sheer maxi skirt is an actual trend. At least, it's a trend on all the fashion blogs and on FIDM's campus right now.
On the plus side, this look represents a fresh take on the maxi skirt trend we're seeing everywhere this season, and the breathable fabric offers an easy, comfortable way to wear a long skirt in hot weather. In addition, it's definitely a statement-making trend: After all, it's hard to ignore one of these skirts on the street!
However, while I love a glimpse of leg and subtle sexiness, I don't know that I'm fully on board with sheer maxis. The street style look above-left is the cutest way I've ever seen this trend worn, but in general, it seems difficult to pull off.
Around campus, I typically see girls wearing ultra-sheer skirts like the ones below. The semi-sheer ones (above) seem wearable, but the ultra-sheer ones shown below are just too much for my taste. However, if you are going to wear one (and more power to you if you choose to!), I recommend going with full coverage on top to avoid looking overly provocative.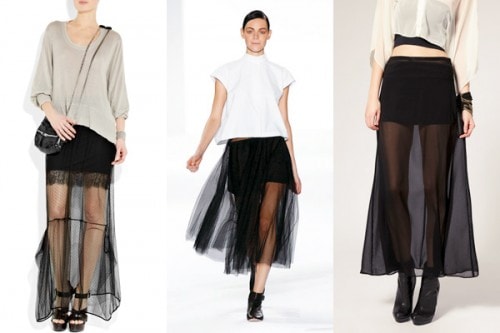 Now that you know where I stand, what are your thoughts?
Leave a comment and let me know what you think about sheer maxi skirts. Are these fresh and fun or too much? Do you have a rule about the amount of sheerness when it comes to picking one out for yourself? Do you own any sheer skirts? How would you style one of these skirts – do you think it's possible to make one work? Leave a comment!