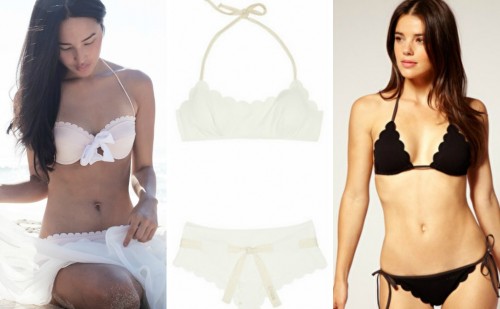 Scalloped-edge bikinis seen on fashion blogs and available for purchase at Net-a-Porter and ASOS
Fess up: We know you've been daydreaming about swimming in the ocean and sunbathing (with SPF, of course!) instead of . With summer well on its way and warm temperatures right around the corner, we had to slip in a swimwear trend post. If you're in the market for a trendy and totally cute swimwear choice, scoop up a scalloped-edge bikini and get ready for some sun.
What exactly is a scallop, anyway? Basically, scallops are half-moon cutouts along an edge. They make a hem much less severe and give a dainty, demure touch to an outfit. As we know, scalloped shorts were all the rage last summer and bikinis are simply the next step. The downside? Watch out for the dreaded scalloped-edge tan line!
If you, like many of us, aren't lucky enough to live somewhere that's warm year-round, we recommend keeping scalloped bikinis in mind for summer. We're not bitter, we just have more time to plan our swimsuit options before summer… right?!
What are your thoughts on the scalloped bikini trend?
Would you wear a scalloped bikini? Is this look charming or silly? Which look above is your favorite? Leave a comment below and let's talk about it!