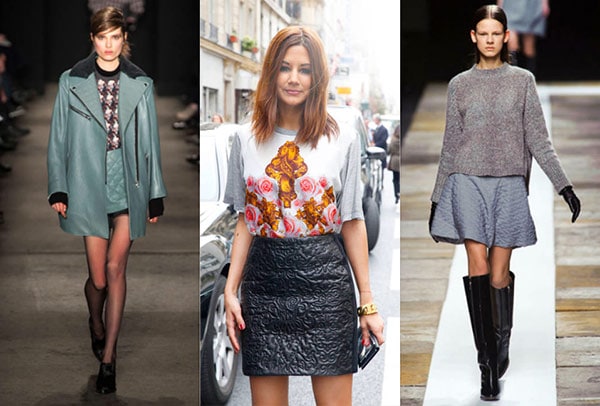 Photos L-R: Rag & Bone F/W '13, a street style fashionista, and Theysken's Theory F/W '13, all courtesy of ELLE
It's that time of year – the dreaded winter-to-spring transition period, when you're beyond sick of your winter clothes, yet it's still too chilly to break out your fresh spring outfits. Luckily, one of our new favorite fashion trends, fresh off the F/W '13 runways, may just be the thing to bridge the gap: Quilted leather skirts offer the perfect juxtaposition of a heavy and warm winter material with a fun, flirty silhouette.
If the word "quilted" brings to mind your grandmother's hand-stitched blankets, never fear – the use of leather (or, our fave, faux leather) toughens up the sweet look of traditional quilt stitching. Fitted or A-line, we love these skirts… and we can't wait to get our hands on them.
Here's how we would wear one for a night out…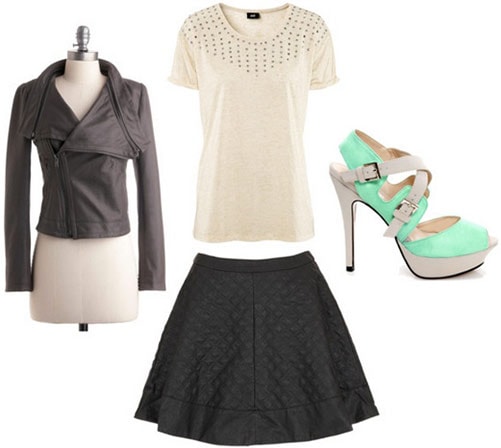 Product Information: Top – H&M, Skirt – Topshop, Jacket – Modcloth, Shoes – Lulu's
Would you wear a quilted mini skirt?
We want to know what you think about these skirts. Hot or not? Cute or too much? How would you wear this trend? Which style above is your favorite? Leave a comment below and let's discuss!