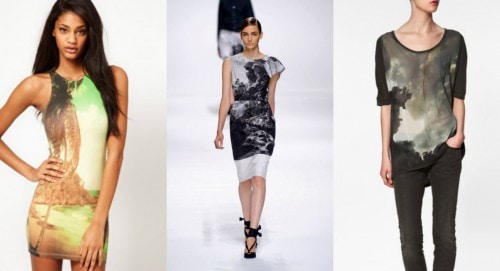 Photo Credits: ASOS dress, Dries Van Noten Fall 2012 via Elle, and Zara top
Gone are the days of rocking your prized tee with Britney Spears's face printed on it, but lo and behold: photo print shirts are coming back around in a big way. Direct prints from photographs are everywhere this season, from dresses to pants and tops, and in bright colors, black & white, and sepia tones.
Dries Van Noten and Carven sent photo prints strutting down the runway in various forms for Fall 2012, and now they're beginning to appear in stores.
If you're itching to try this trend out, pair it with sleek pieces and minimal accessories to tone it down. Let the print speak for itself, as it is already quite visually overwhelming. And don't spend a lot of money on a piece; this is trend that probably won't have staying powder. By the way, we won't tell if you still like to sleep in your *NSYNC printed t-shirt from the '90s.
Here's how we'd wear it…
Product Information: Dress – Urban Outfitters, Shoes – Modcloth, Bag – Miss Selfridge, Nail Polish – Amazon
Would you wear a photographic print?
Let's talk about it in the comments below! Do you like this trend? Do you see yourself trying it out? How would you wear it?