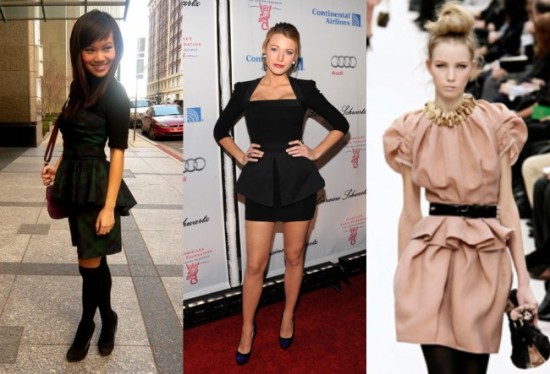 Peplum for daytime, nighttime, and on the runway. Credit: 1, 2, 3
In the spirit of our mad hunts to find the perfect New Year's Eve look, I decided to showcase an old party dress trend that's having a resurgance. Peplum dresses, which have a ruffle around the waist, have come back into style, and would be perfect for NYE.
No matter how you wear it, peplum gives off a flirty, feminine vibe. Even the street style look above is sophisticated and a little bit retro-girly. However, this look can also go wrong if the proportions are off – it's key for peplum frocks to be tailored all over to balance out the bulk of the major ruffle.
Although proponents of this trend argue that only slim women can pull off this look, I beg to differ. Remember when Jennifer Hudson looked absolutely stunning in a Victoria Beckham peplum dress? It seems as if drawing attention to the waist would be counterproductive, but when I think about it, I've never seen peplum look unflattering.
Personally, I think this would be a fabulous look to wear on New Years. If you found the perfect peplum dress in a shiny material, I think it would be sophisticated and too cute for words!
How do you feel about peplum party dresses?
Leave a comment and let me know your thoughts about peplum dresses. Which celeb style is your favorite? Do you think you'll be rocking this look on New Year's Eve? Where else would you wear a peplum party dress? How would you wear it?