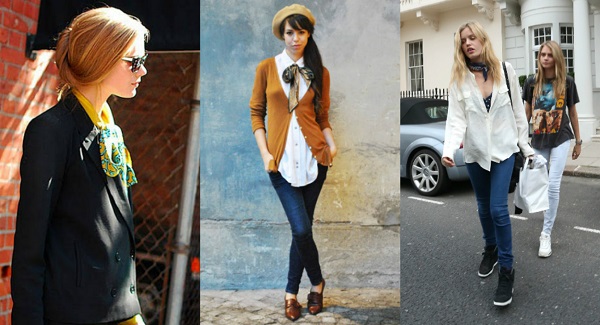 Photo Credits: 1. ELLE, 2. ELLE, 3. Georgia May Jagger via Pacific Coast News
The neckerchief is the ultimate in dual personalities. On one hand, the silky scarf is quintessential Park Avenue ladies-who-lunch chic. Alternatively, this style can be rugged cowgirl cool when worn loosely like Georgia May Jagger. Blame it on Miu Miu's Fall/Winter 2013 collection, but the neckerchief is the ultimate cool girl trend right now.
Bow it, knot it, or twist it, there's no right or wrong way to style it. You can wear it under a collar (like the street style shot middle-center) or you could wear it over a button-up for a classic look. No matter what take you have on it, it's a trend worth trying this season.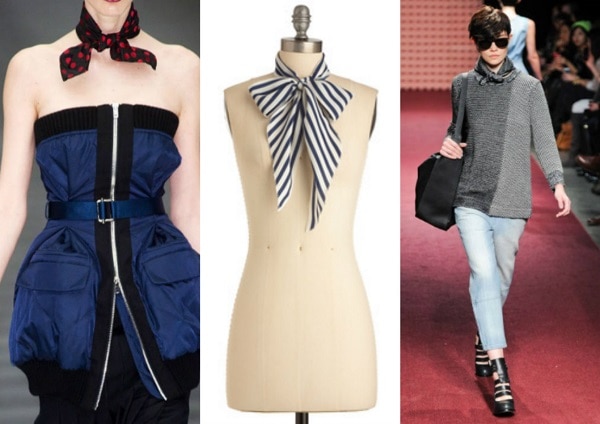 Photo Credits: 1. Miu Miu F/W '13 via ELLE, 2. Modcloth, 3. Rachel Comey F/W '13 via ELLE
Would you wear a neckerchief?
Or is this trend not up your alley? If yes, how would you wear it? Would you wear it in a classic style or rock it with a fresh interpretation? We want to know your thoughts, so leave us a comment below.