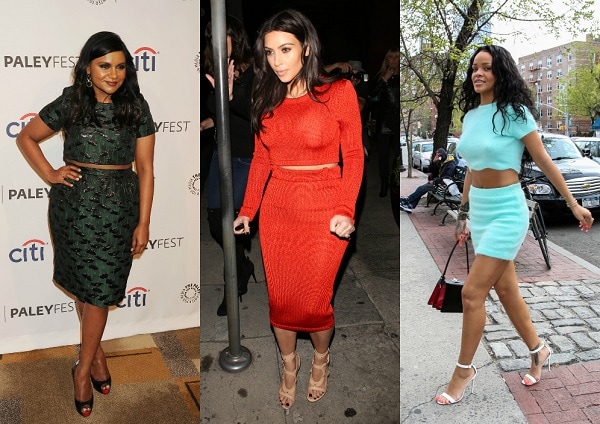 Photos of Mindy Kaling, Kim Kardashian, and Rihanna via Pacific Coast News
If your friends would describe your sense of style as "matchy-matchy," then this hot new trend should find a place in your summer wardrobe. Wearing a matching crop top and skirt set makes for the ultimate statement outfit. Need proof? Loads of A-listers of all styles and sizes have been testing out this trend!
Many of us may feel uncomfortable wearing crop tops, but when paired with a high-waisted skirt, it will show just a sliver of skin. (Just like the ones Mindy and Kim are rocking above!)
Of course, as college students, we do have to take into consideration where we are baring our skin. This look won't fly for finals week on most campuses, but would look stylish for a dinner date or a night on the town.
The best part of this trend is the versatility. Nobody says you have to always wear them with their matching counterpart, so if you decide to invest, you could get at least three outfits out of one set. Talk about bang for your buck!
Some budget-conscious crop top and skirt sets…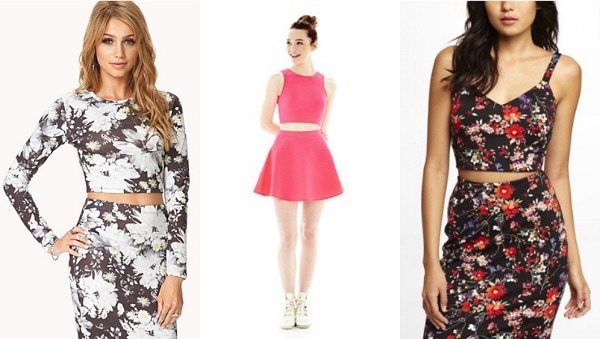 Product Information: Forever 21, JCPenney, Express
Will you be rocking a crop top and matching skirt set this summer?
Or are you more of a mix-and-match type of gal? Which style above is your favorite? Where would you wear this look and how would you accessorize it? Let us know what you think by leaving your comments below!