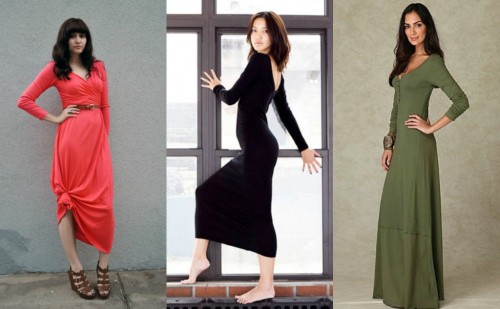 Photos: A long-sleeve maxi dress street style look, American Apparel, and Free People.
I have always been a firm believer in the basic rules of fashion proportion: "Tight on top, flowy on bottom; tight on the bottom, flowy on the top." Similarly, I follow the rule of "If you cover your legs, go sleeveless; if you're wearing long sleeves, wear a shorter skirt." So, of course, here comes the long-sleeve maxi dress, which is just an endless puzzle for me. It goes against all my long-held beliefs about proportions and silhouettes, yet it somehow still works.
A long-sleeve maxi dress is a fantastic way to transition floor-sweeping lengths into winter months. It's comfortable, casual, and easy to layer over – a total wardrobe basic.
I think they key to rocking this look is to make sure your dress is form-fitted so your body doesn't drown in fabric. The street style look above is unquestionably adorable, and the pieces from American Apparel and Free People are great staples. Not sure how to wear one? Here's an idea:
Throw it on with a messy bun and utility vest…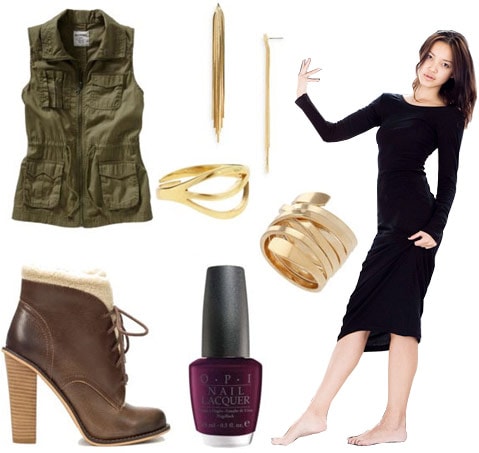 Product Information: Dress – American Apparel, Vest – Old Navy, Shoes – Zara, Earrings – Nordstrom, Rings – Debenhams & Debenhams, Nail Polish – Amazon
I can't decide whether to pass on these dresses or grab one immediately! What do you think?
Leave a comment below and let's chat about it! Are you in love with this trend or not feeling it? Do you think it would work with your personal style? How would you wear it?