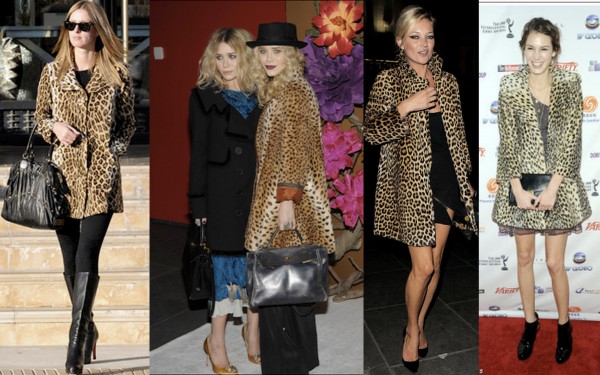 From Left: Nicky Hilton, Ashley and Mary-Kate Olsen, Kate Moss, Alexa Chung
It seems that one of this season's hottest takes on outerwear comes in the form of lovely leopard print coats. Easily paired with a classic all-black ensemble, leopard print coats are definitely for the girls that want to make a statement with their cool weather attire. This is why fashion-forward celebs like Alexa Chung and Mary-Kate Olsen have been seen out and about in the cozy trend.
Traditionally a symbol of luxury, sexiness and glamour, the leopard print coat is also popular because of its surprising versatility. It works well with casual ensembles for a day of shopping, like Nicky's coat, but also packs enough glamour for a special night out, complete with cat-eye makeup like Kate Moss.
Here are some current retail leopard print coats (all faux fur, of course):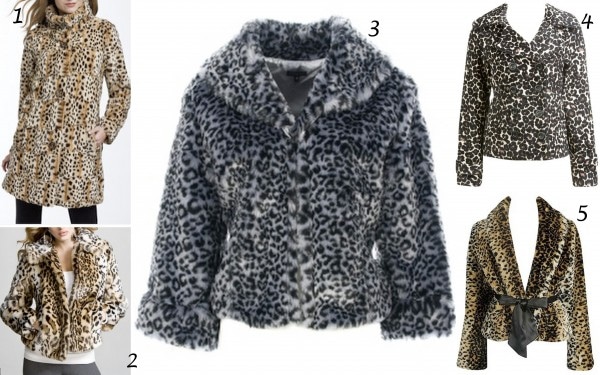 1. Lucky Brand, 2. Express, 3. Missguided, 4. Wet Seal, 5. Forever 21
Personally, I'm not a huge fan of the leopard print coats–something about them reminds me of their extravagant, real fur counterparts that carry a snobbier, "luxury is only for the rich" sort of feel. But, I must admit, I think Kate Moss looks absolutely envious in her coat, so this is one of those trends I'm a bit on the fence about.
What do you think? Can normal college girls pull of the luxury of this coat–and will you be partaking in the trend? Let me know what you think!