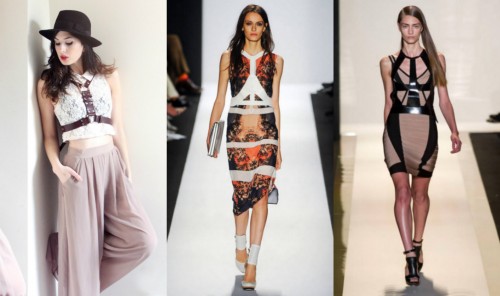 Photo Credit: Constance Victoria P. on Lookbook.nu, BCBG from Elle.com, and Herve Leger from Elle.com
This week, the fashion world is abuzz about the latest trend in accessories… harnesses. Yes, you read that right.
At New York Fashion Week, harnesses could be spotted everywhere. Many notable fashion houses sent them strutting down their runways, from Herve Leger (above-right), to BCBG Max Azria (above-middle), and even Jason Wu, who normally sticks to more feminine designs.
As I saw the anxious tweets about designers showing off cool-chic harnesses this past week, I shrugged with skepticism, but after doing research, my thoughts have shifted… slightly. Some street style looks I've seen do look pretty cool. (See above left.) So maybe it's possible to pull off this trend without looking like a Jenny Humphrey or Anastasia Steele ripoff.
Tame Ways to Try the Trend
If you're not ready to wear a harness to class on campus (we don't blame you!), but you like the edgy look, try one of these items to add a subversive feel to an otherwise-normal outfit: a lacey bralet with a hint of strappy leather detail (worn with high-waisted pants or a high-waisted skirt), a harness-like dress, or a strappy belt worn over a grecian-inspired dress.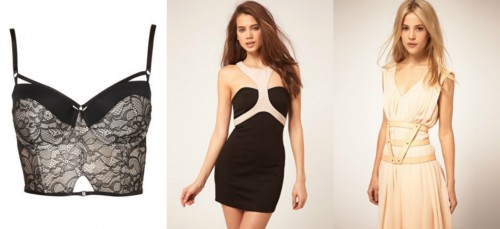 Product Information: Bralet – Topshop, Dress – ASOS, Belt – ASOS
Would you wear a harness?
Do you like the runway looks above, or are they too suggestive for you? Is there a way to bridge the gap to make this style cool and chic? How would you wear it? Leave a comment below – we want to hear your thoughts on this one!