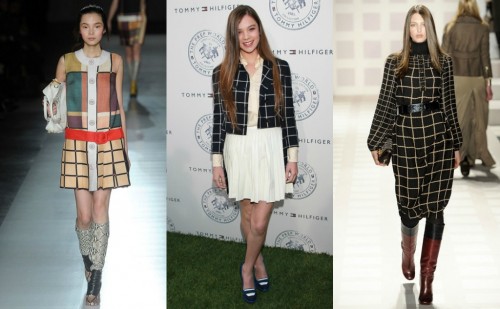 Grid patterns spotted on the Prada (above left) and Tory Burch (above right) runways and on Hailee Steinfeld. Photo Credit: 1, 2, 3
Reading the September issues of my favorite fashion magazines is always an enlightening experience. As I flipped through Marie Claire, I couldn't help noticing a unique pattern throughout the fashion spreads. Gridlock patterns and oversized boxes are the hot new print this fall, so expect to see them everywhere.
These grid patterns are reminiscent of the '60s mod era, but would today's contemporary fashionista wear them? I was skeptical until I found the above photo of Hailee Steinfeld styled chic-ly in her Tommy Hilfiger jacket.
If you're headed to class and don't wanna rock head-to-toe grids, grab a scarf or pair of flats with a gridlock pattern. Small accessories are an easy way to adapt the overpowering gridlock pattern from the runways into your wardrobe.
Need inspiration? Don a gridlock top for a lunch date with your mom…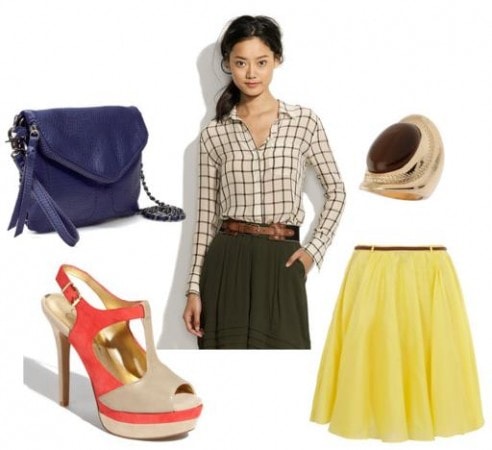 Product Information: Top – Madewell, Skirt – Warehouse, Shoes – Nordstrom, Bag – Zara, Ring – Topshop
What are your thoughts on the grid pattern trend?
Leave a comment and let me know what you think! Is this a versatile trend or tough to adapt to your wardrobe? Do you have any oversized check or grid patterned pieces? How would you wear this look?