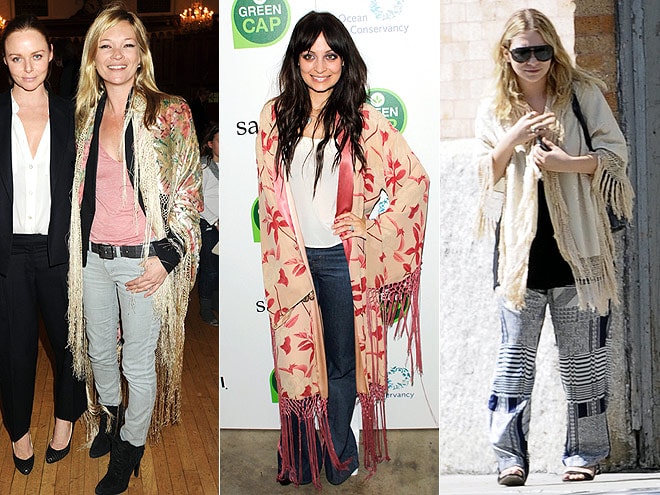 For this week's Would You Wear article, let's focus on a hot item that's been recently popularized by celebrities. Kate Moss, Nicole Richie, Ashley Olsen, and others have been seen everywhere rocking fringed jackets reminiscent of the '70s. These bed jacket-esque pieces are a cross between a dressing gown, scarf, kimono, and regular jacket.
From the Runways to the Stores…
Fringe has been a hit on the runways since 2008, when designers like Jil Sander, Gucci, and Ralph Lauren showed off fringed looks. Before long, fringe began showing up on bags, scarves, vests, and now jackets. Mid-range stores such as Modcloth and Arden B have their own versions of the fringe jacket trend available now.
Personally, I think a fringe jacket would be a fun look to throw into my wardrobe. It would be easy to pull off if made the center of an outfit. As with any dramatic piece of clothing, it's important not to let it not to overwhelm you. So I recommend pairing it with basic jeans and a tank. Then throw on some funky jewelry to pull the bohemian look together.
Here's a sample outfit to show you how the fringed jacket can be pulled off…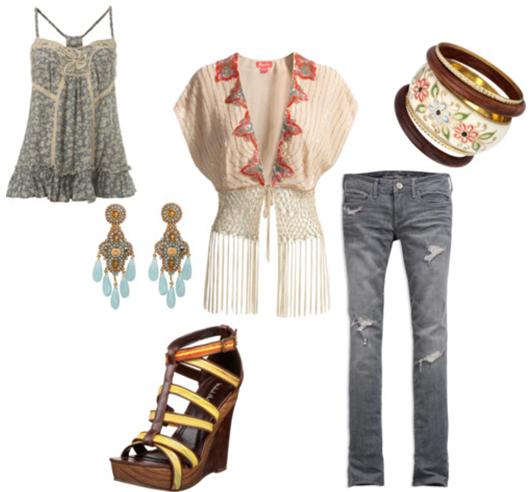 Product Information: Cami – Miss Selfridge, Jacket – Monsoon Accessorize, Jeans- American Eagle, Wedges – Endless, Bangles – Dorothy Perkins, Earrings – Rent the Runway
Your thoughts?
I want to know your thoughts on this trend! What do you think about the fringed shawl jacket look? Would you wear it? Is this a trend that will quickly fall out of style? How would you wear it?