1. Anthropologie, 2. Balmain S/S 2014 via ELLE, 3. Nordstrom
If this season has any form-meets-function trend, the denim jumpsuit is it. Once a mechanic's workwear item, the denim coverall has sprouted right on up into posh territory. From the runway to celebrities and fashion stores across the globe, these items are no longer hard to find and come in surprisingly chic silhouettes.
Thinking about easing this workwear into your rotation? Ditch the boots, roll up the sleeves, and accessorize with bold jewelry. Think about the contrast of wearing the rugged piece in a feminine way. Tall stilettos or wedges look ace with this menswear item.
Also, let the chic celebs below serve as some sartorial inspiration – these ladies know how to rock a denim jumpsuit: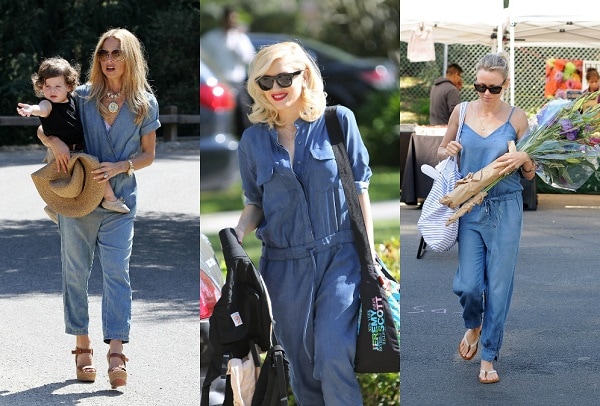 Rachel Zoe, Gwen Stefani, and Naomi Watts wearing denim jumpsuits. | Photos via Pacific Coast News
Have you tried it out? Let us know!
If you haven't, would you wear a denim jumpsuit? How would you wear this look? Which celeb styled it the best? Let us know what you think by leaving a comment below!