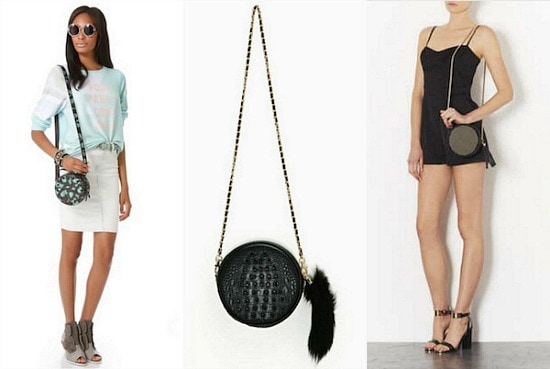 1. Loeffler Randall Circle Bag, 2. Nasty Gal Little Savage Bag, 3. Topshop Round Pin Bag
If you're anything like us, you likely rely on your gigantic bags to tote around your most precious belongings. However, we all know that big bags are frustrating. From the hazardous instances of awkwardly brushing against passersby and, of course, the never-ending struggle to find that lip balm, it makes us wonder why we even bother.
To simplify your life (on days when you don't need to tote around notebooks) seek out a circle crossbody bag. We love small bags that easily sling across your shoulder or body in general, but round ones are having a moment in the fashion world. We can't help coveting Loeffler Randall's versions (shown upper-left), but there are also a bunch of affordable options out there.
Trouble seeing it? Here's our take on styling one..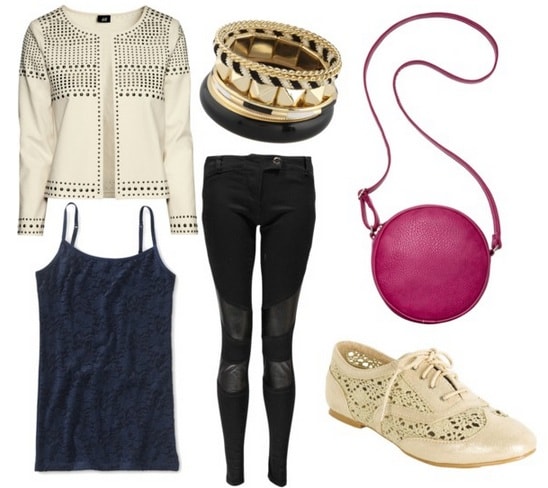 Product Information: Jacket – H&M, Tank – Aeropostale, Jeans – Boohoo, Shoes – Delia's, Bag – Macy's, Bracelets – Aldo
Would you wear a circle crossbody?
Is a round carry-all right up your alley or a little too style-specific for your taste? If you have one or want one, how would you style it? We want to know the details, so let us know below!