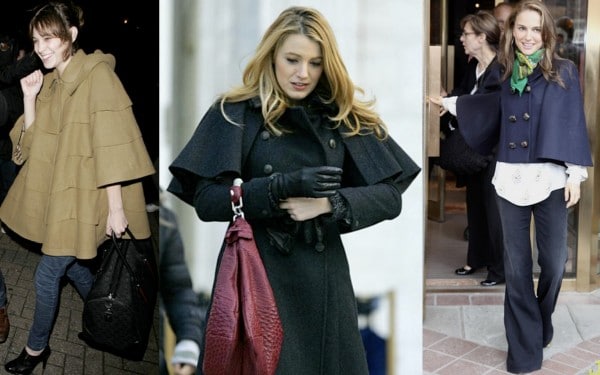 Alexa Chung, Blake Lively, Natalie Portman
With the return of winter comes the return of that ongoing search for the perfect winter coat–you know, the one that's warm, functional, reasonably priced, cute AND different from the sea of North Faces and standard black peacoats. Difficult, right?
Cape coats are among those risky styles that have actually been around for a while but haven't had a chance to take off. A handful of fashion-forward celebrities have donned their versions of the sweet, feminine coat with promising results, but cape coats haven't been able to make a strong transition to mainstream retail, mostly because they're so different from the traditional winter jacket.
Often times, a coat is an investment piece for shoppers, one they want to last for several seasons. But really, if you plan on wearing a coat for that long, why not purchase one that makes a statement and looks great on you? Cape coats run the spectrum from lightweight for fall, like Natalie Portman's, or warm and snuggly for really wintery weather, like Alexa Chung's or Blake Lively's.
Here are some current retail examples of cape coats available now:
So what do you guys think? Is this a trend you'd like to try–and why or why not? Which style of cape coat do you like best? Leave a comment with your thoughts!