Emma Stone, Emma Roberts, and Julianne Hough rock box clutches. Photo Credit: 1, 2, 3
If awards season has you yearning to pull out your fanciest dress, you'll probably love this handbag trend. Box clutches are sturdy evening bags that are popping up all over: From the red carpets to the runways, these tiny, structured bags are everywhere.
While they may not hold all of your unmentionables, they will hold the attention of any trendsetter who sees! An itty-bitty clutch poses certain practicality problems, however it is a small trade for looking like you just stepped off the runway. Who wants to carry a clunky hobo bag out for a night on the town anyway?
Dress it up for a night out to a cocktail party or art gallery opening…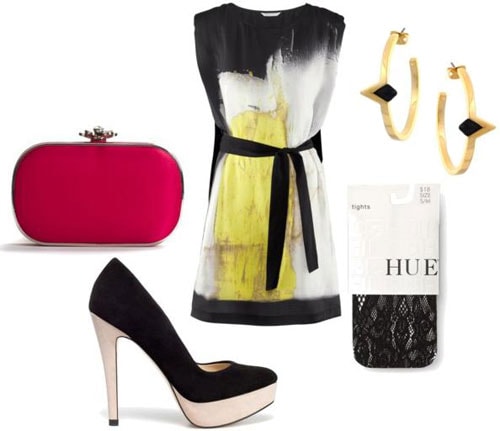 Product Information: Dress – H&M, Tights – Bloomingdales, Shoes – Zara, Clutch – DSW, Earrings – Charm and Chain
What are your thoughts?
Leave a comment below and let us know! Are you entranced by small box clutches, or would you rather tote a carry-all? Do you have a box clutch? How/where would you wear this trend?