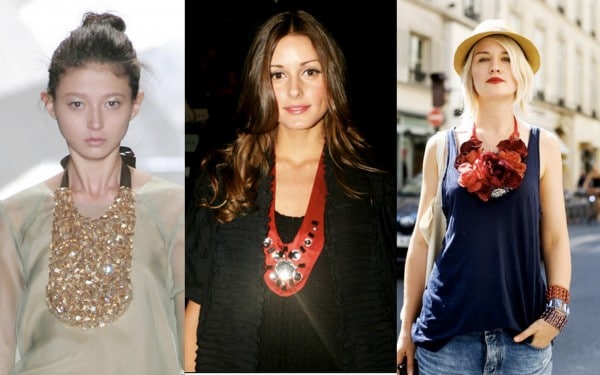 For this edition of Would You Wear?, let's talk about an accessories trend that's been going on for a little while now but has recently started to have its spark renewed – the bib necklace.
Over the past season or so, designers and celebrities alike have been bringing drama to their outfits with seriously eye-catching neckwear. The bib necklace, named for the fact that it resembles a bib, has been snapped up by celebrities like Olivia Palermo and Mischa Barton, who love the injection of glamour that such necklaces bring to any outfit.
But recently, a different variation on the bib necklace has begun to emerge from those with more romantic, soft tastes: the flowered bib necklace. Flower bib necklaces have exploded in popularity because of their feminine touch, and are an excellent alternative for girls who feel the heavy jewels of original bib necklaces are too much.
Flower bib necklaces are great because they're often less expensive than their jeweled counterparts and are a great DIY project: all you need is a glue gun and a trip to your local craft store. Both the Glamourai and Krystal from This Time Tomorrow chronicle their DIY attempts at bib necklaces, here and here.
Necklaces from Modcloth
Personally, I love both styles of bib necklaces. They can bring either a little bit of attitude or a soft touch of femininity depending on your taste, and I love that you can either buy one in stores or make your own with fairly little effort.
What do you think?
Would you wear a bib necklace? If so, which style of bib necklace do you like better? Would you consider making your own? Leave a comment with your thoughts!!