This post may contain affiliate links, which means we may receive a commission if you purchase through our links. Please
read our full disclosure here
.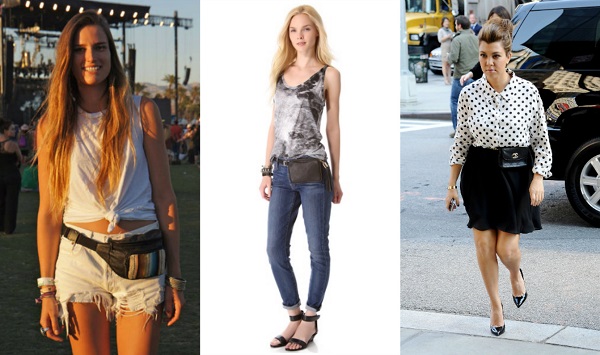 Photo Credits: 1. Elle.com, 2. Shopbop, 3. Pacific Coast News
We know what you're thinking. "Belt-loop bag? You mean fanny pack!" We can't deny that the two products have the same basic concept, but there are some differences that we are here to point out.
This season, the fanny pack has gotten classy. So classy, in fact, that Chanel even has a version. Patent leather, quilted, rustic, and unique prints are just a few of the unique styles popping up in stores under the term "belt bag" or "belt loop bag". And the main thing they all have in common? These bags attach to your belt loops (or include their own – usually non-nylon – belt, meant to fit through loops on your jeans).
Despite its obvious association with the fanny pack, this trend does have its upsides. Think of when you're clothes shopping with a bulky purse in your hands. Having a hands-free bag makes the process so much easier. Choosing a purse for a sporting event or music festival is always tricky for the same reason. A bag that attaches to your belt loop makes practical sense.
Honestly, we are on the fence about this trend. The concept is fantastic, but we can't help reminiscing about those bulky, canvas fanny packs of the '80s and '90s and it's not a look we're raring to relive.
If you're willing to give this trend a shot, we have some suggestions…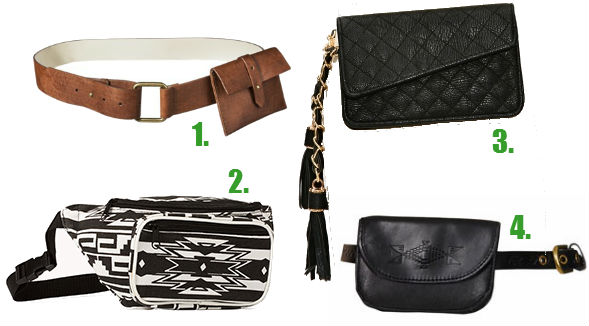 Product Information: 1 – Target, 2 – Forever 21, 3 – Nasty Gal, 4 – Topshop
Would you wear a belt-loop bag?
Or is this look just too much like a fanny pack for your taste? (Do you disagree with designers calling it a "belt loop bag"? We're still on the fence!) Do you think the practicality and cool styles outweigh the downsides? If yes, how would you wear this? Leave a comment below and let us know!