This post may contain affiliate links, which means we may receive a commission if you purchase through our links. Please
read our full disclosure here
.
As we ring in another year and prepare for the spring fashion releases, it's important to take stock of what's new and see if our wardrobes need updating. While recent trends such as animal print will still be in style for 2019, new releases will be seen on the runways and the streets before you know it.
As always, we're fans of picking and choosing which trends to follow based on your own taste. Today, I'm sharing which ones I'm going to be trying this season. Here are the four items I'm buying now to get my wardrobe into 2019 shape.
Platform Shoes
Platform shoes are just beginning to make a comeback, circling back around from the '90s. In high fashion, designers such as Gucci and Balenciaga have created giant soles for sneakers, sandals, boots, and heels. Thick and flat across the bottom, the platform shoe gives a nice little boost to any outfit. The good thing about this trend is that it can be adjusted for any season. Sandals in the summer, boots in the winter.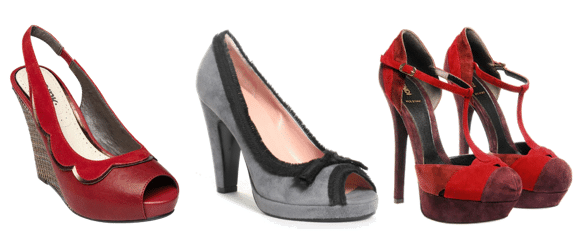 Products: Top Left – DSW, Bottom Left – Barneys, Bottom Right – Asos, Top Right – Barneys
I love the look of platform shoes with jeans. Whether we're talking rolled, skinny, or bell bottoms, jeans and platforms go together like PB&J. The thick bottoms on the platform dad sneakers make them ultra comfy, perfect for trekking all over this spring. For platform sandals, once the weather warms up, look for flowing skirts or dresses to pair with them, creating a '70s hippie vibe.
Faux Fur Accented Pieces
Faux fur is always trendy for the winter but it's particularly hot this year, with stars like Ariana Grande rocking looks heavy in the detail. With more and more celebrities turning to support the faux fur movement, brands have begun lacing faux fur into every style imaginable. Whether you're looking for boots, jackets, gloves, hats, or scarves, faux fur is universal and can be worn in many ways.
Products: Jacket – Forever 21, Scarf – Forever 21, Boots – Amazon
The best part about faux fur is that it is extremely warm, as well as stylish. Faux fur just shows an extra sophistication, and can be paired with denim, black, leather, or lace. It can be a little flashy, so keep the rest of the outfit simple to draw more of a focus. With a furry jacket, a plain undershirt, dark jeans, and boots complete the look. With furry boots, for example, stick with plain or lightly patterned leggings and a neutral colored top.
Neon Anything
While neon is a total blast from the past, trend-wise, it's been seen in many stores lately, and I love it for its youthful and energetic vibe. The rainbow of colors makes it difficult for the eye to look anywhere else, and in 2019 those who wear neon will be stealing the spotlight.
Products: Boots – Ego, Dress – Fashion Nova, Jacket – Amazon
That being said, neon isn't necessarily easy to wear, as the bright colors can often conflict with each other. Keep it simple when going for a neon look, and wear only one piece at a time. A dress is perfect for example, to pair with a plain handbag and shoes. If you're choosing to wear neon shoes, create a neutral outfit to help the accessory stand out even more!
Jumpsuits
2019 is posed to be a year of fierce and powerful women speaking up and standing out, and I see the jumpsuit as one of the biggest power moves a woman can present in her wardrobe. With a long history of appearing on the red carpet, the runways, or the street, the jumpsuit is an amazing look, and can look fabulous on everyone if styled correctly. Speaking of, don't believe the myth – you don't have to be supermodel tall to rock one of these! Jumpsuits can be hemmed or tailored to fit your body type, so be adventurous this year and add one to your closet.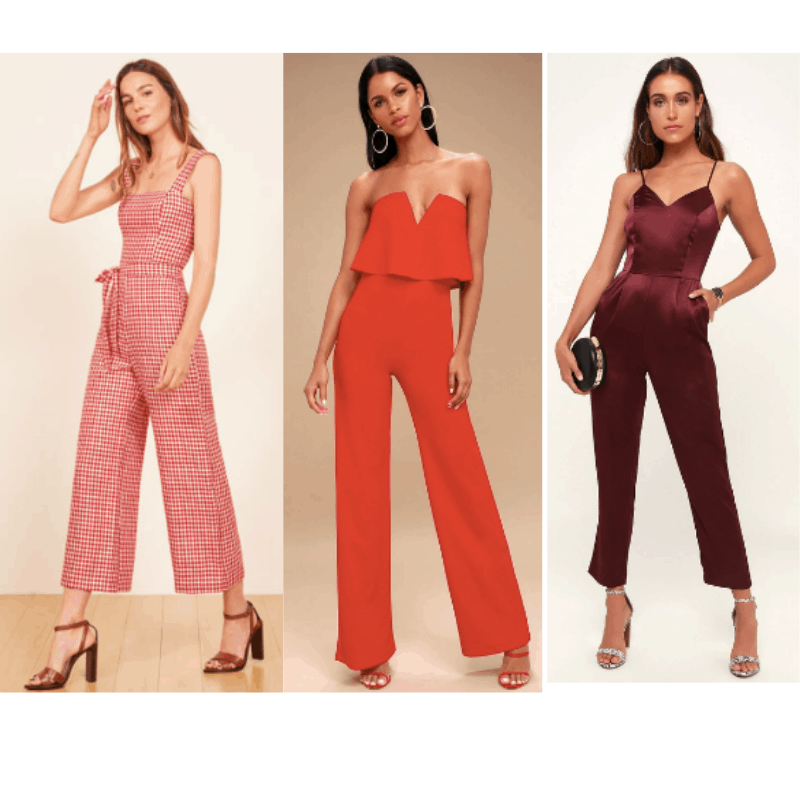 Products: Left – Reformation, Middle – Lulus, Right – Lulus
When it comes to jumpsuits, there are so many styles and colors to choose from, with loose and large bottoms, cinched waists, straps or no straps, and the most exciting detail – pockets! – all available in stores. Because the jumpsuit is enough of a statement as it is, wear minimal accessories with it. If your jumpsuit is in a bold color like red, stick to basic neutrals and gold jewelry for best results.
What do you think?
What trends are you watching for in the upcoming year? What product or brand is on your must-have list? Comment below!