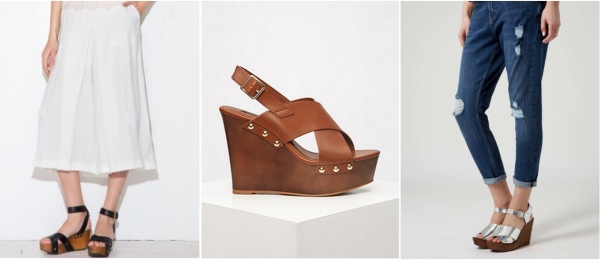 Photos Credit: 1. Pixie Market, 2. Forever 21, 3. Topshop
Sometimes the first piece of an outfit I pick out is the shoe. It can provide just the right inspiration I need to achieve that certain style I am going for. A statement shoe can tie an outfit together and create a look that everyone will notice. So what is this summer's statement shoe? Answer: wooden wedges.
This style has a retro '70s vibe that pairs perfectly with flares, dresses, and denim. It's time to toss your winter boots to the back of the closet and pull out some wooden wedges.
Check out the outfit sets below for ideas on how to style this fabulous summer footwear.
Western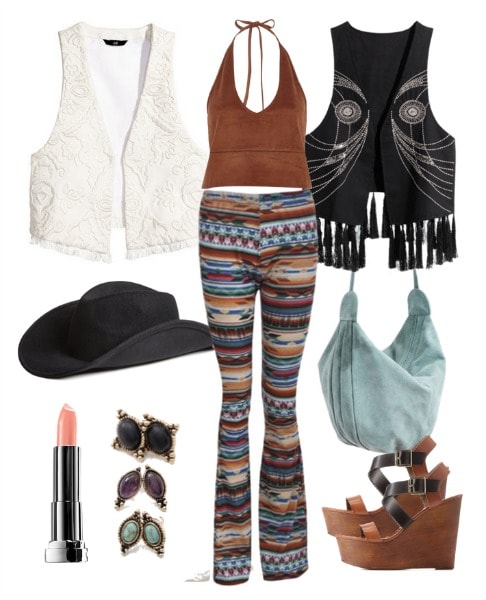 Product Information: White Vest, Black Vest, Top, Hat, Pants, Bag, Lipstick, Earrings, Wedges
First and foremost, I absolutely love the look of wooden wedges with flares. It doesn't matter if the flare is denim, printed, or textured– the wedge will go with them all!
For this look, I went with a western style. The printed flares and faux-suede halter top look adorable with the shoes. Add an embroidered vest, such as the ones above (I couldn't decide between the two; they were both too cute!), and if you're feelin' a little bit country, a cowboy hat. Lastly, grab a hobo bag to carry your lipstick and other essentials.
Boho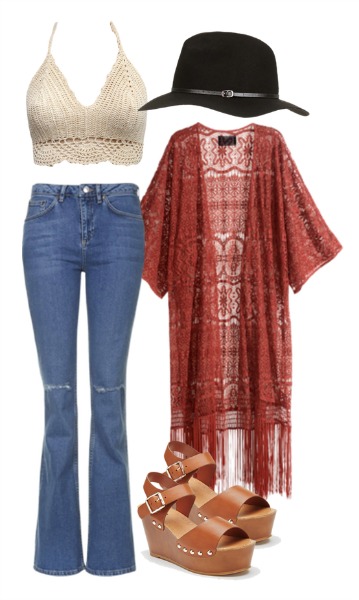 Product Information: Top, Jeans, Hat, Kimono, Wedges
Kimono jackets and denim flares are adorable this season, so why not pair them with another fabulous trend? These wooden wedges will give you height to balance out the length of the kimono, while a crocheted tank adds to the boho-chic vibe.
This look is so easy to throw on that there's no excuse for not trying out this stylish ensemble. For the finishing touch, rock a wide-brim fedora. Even if you're having a bad hair day, this hat will cover it up in an ultra-chic way.
Denim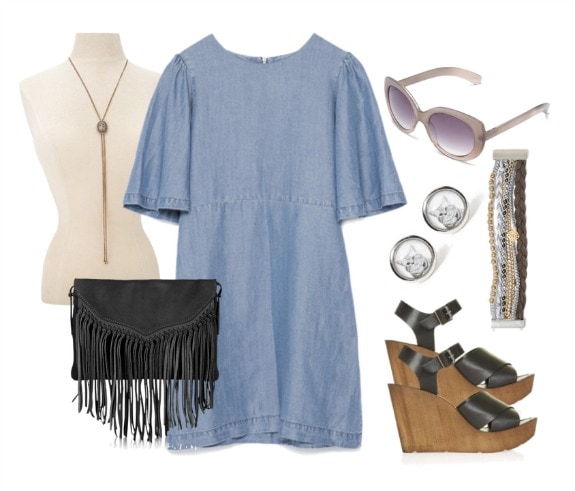 Product Information: Necklace, Bag, Dress, Sunglasses, Earrings, Bracelet, Wedges
Not only are wooden wedges excellent shoes for flared pants, but they pair well with dresses and skirts, too. Wear these shoes with a loose-cut denim dress and fringe bag, and you'll look so stylish. I absolutely love the wide-sleeve detail of this dress! Complement the outfit with cute accessories, like cat-eye sunglasses, cat-portrait earrings, and a wide bracelet.
Tell Us What You Think!
What do you think about this summer's hottest shoe trend? How will you be wearing wooden wedges? Which look is your favorite? Let us know by commenting below!