This post may contain affiliate links, which means we may receive a commission if you purchase through our links. Please
read our full disclosure here
.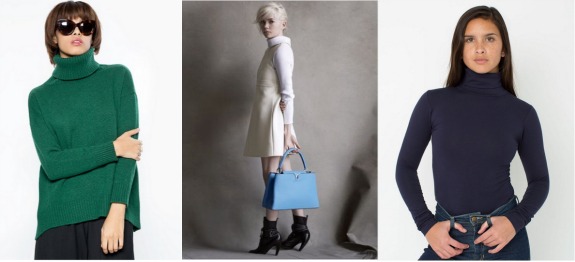 Photos Courtesy of: 1. Pixie Market, 2. ELLE, 3. American Apparel
Brrr. I don't know about you, but the dropping temperatures this month are making me want to bundle up in comfy pants and sweaters all day, everyday. In the winter months, it's hard to look stylish (or at least decent) in bundles of warm layers. But today I have a solution to that problem: turtlenecks. Trendy turtlenecks are an amazing winter staple piece that will keep you on-trend and feeling practical.
If you think turtlenecks are be hard to style or just want inspiration on how to wear this fabulous winter trend, then look below for three new takes on this staple piece that would be perfect for class.
1. Cropped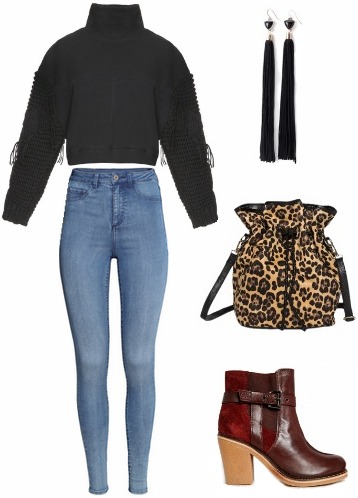 Product Information: Turtleneck – Pixie Market, Jeans – H&M, Earrings – Forever 21, Bucket Bag – Pixie Market, Boots – ASOS
Stay trendy by pairing a cropped turtleneck sweater with high-waisted denim. Find a turtleneck with fun details such as this fringe sweater from Pixie Market. The online retail store also has a pricier yet adorable owl graphic turtleneck that is bound to get compliments. Complete the outfit by accessorizing with a bucket bag and booties.
If you're not into high-waisted jeans, a cropped turtleneck can also be worn with an A-lined skirt.
2. Feminine Edge
Product Information: Turtleneck – Nasty Gal, Earrings – Forever 21, Boots – H&M, Skirt – Pixie Market, Bag – Topshop
Another way to style a turtleneck for winter is by pairing it with a mini skirt and over-the-knee boots. This is a perfect day-to-night look that is feminine with an edgy twist. Choose a cute mini skirt to match the sweater – we love the idea of a solid-colored or faux leather skirt.
Since necklaces are out of the picture with turtlenecks, it's time to wear your most amusing earrings, like these super-cute dinosaur studs. The over-the-knee boots keep your legs covered and complete the outfit.
3. Slouchy Casual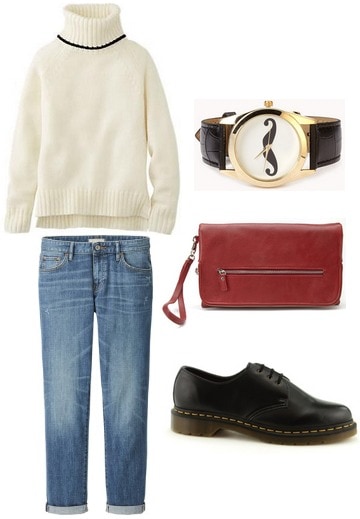 Product Information: Turtleneck – Uniqlo, Boyfriend Jeans – Uniqlo, Watch – Forever 21, Clutch – Forever 21, Shoes – Journeys
For a more slouchy, oversized look, try pairing a turtleneck with boyfriend jeans. You will be comfortable in class without looking like you just rolled out of bed. To glam up this casual ensemble for an after class hangout, simply add a foldover clutch.
Let me your thoughts:
Now, it's your turn! What do you think about trendy turtlenecks? Leave a comment below to discuss this warm and stylish winter trend.