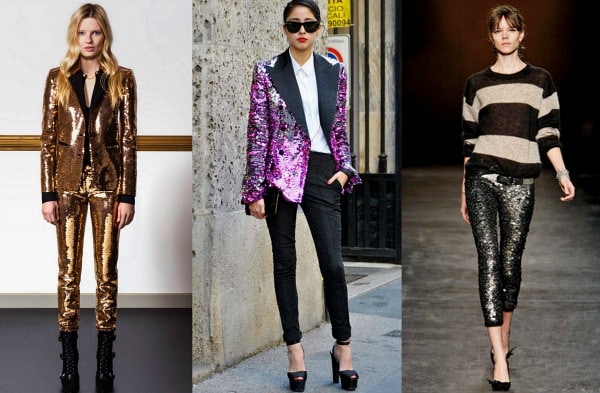 Photo Courtesy of ELLE: 1, 2, 3
Welcome to CF's series, Trend Watch. From high fashion to street style, we're covering all the latest trends, then showing you affordable ways to rock each look. This column is all about making super-trendy pieces work for the average college girl, so if you have a trend you would like to see featured here, leave a comment and let us know!
Every year around this time, women tend to pull every sequined piece they own out of their closets and department stores are filled with sequined clothes and accessories. We fully believe that sequins should not be restricted to holiday and NYE looks, since they can literally light up an everyday outfit.
Sequins can take your look to a whole new level and are so easy to pull off. Scroll down to learn how to add some fab sparkle into your look with these three sequined outfits:
Glittery Casual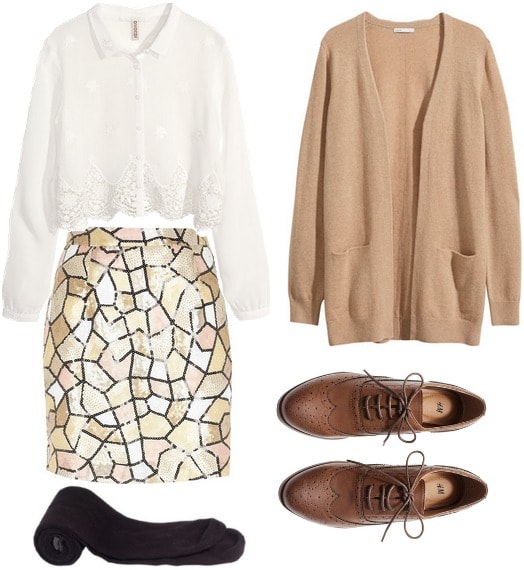 Blouse, Skirt, Tights, Cardigans, Shoes
For a simple yet glamorous outfit, opt for a sequined statement skirt. Pair it with more subtle and comfortable pieces, like this beautiful white blouse and this cashmere cardigan. Add a pair of thick tights to keep you extra warm. Finish the outfit with chic brown oxfords and you'll have a casual everyday look that's sure to make you stand out.
Everyday Sequins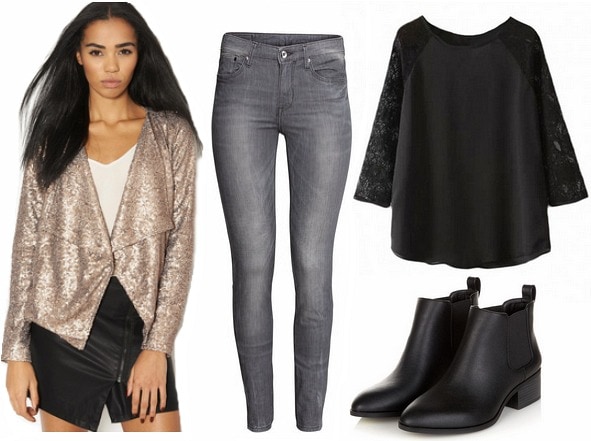 The second look features an outfit combination you have probably worn a thousand times, with one sparkly upgrade. Start by pairing gray skinny jeans with a basic black blouse, as well as sleek ankle boots. The showstopping element in this ensemble is this sequined gold blazer. It will definitely make you shine!
'Tis the Season to Be Glittery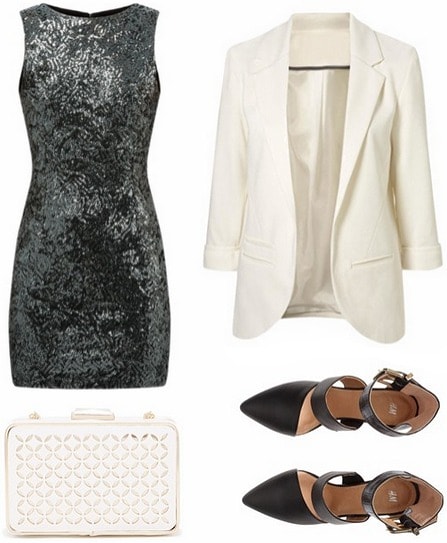 For the last ensemble, I decided to go for the cliche Christmas/New Year's look. I chose a pretty silver sequined body-con dress and paired it with a crisp white blazer for extra elegance. This glam look is completed with strappy pumps and a chic box clutch.
Tell Me What You Think:
Which of these three outfits is your favorite? What do you think about sequined clothes? Will you wear them this winter? Remember to tell us your thoughts by leaving a comment below!