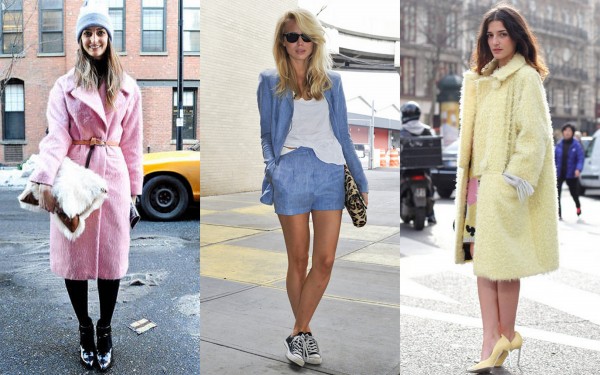 Photo Courtesy of ELLE: 1, 2, 3
Welcome to CF's series, Trend Watch. From high fashion to street style, we're covering all the latest trends, then showing you affordable ways to rock each look. This column is all about making super-trendy pieces work for the average college girl, so if you have a trend you would like to see featured here, leave a comment and let us know!
Usually, pastel shades are reserved for springtime. However, just like lace made a fabulous reappearance this fall, pastel hues are also in the spotlight this season. Even though they aren't traditional fall colors, pastels add a fun twist to your cold weather wardrobe and will set you apart from a sea of gray, brown, and black hues.
Pastel coats are an amazing way to rock this trend from fall right into winter. Read on to find out how I would style pastel coats this season:
1. Pastel Chic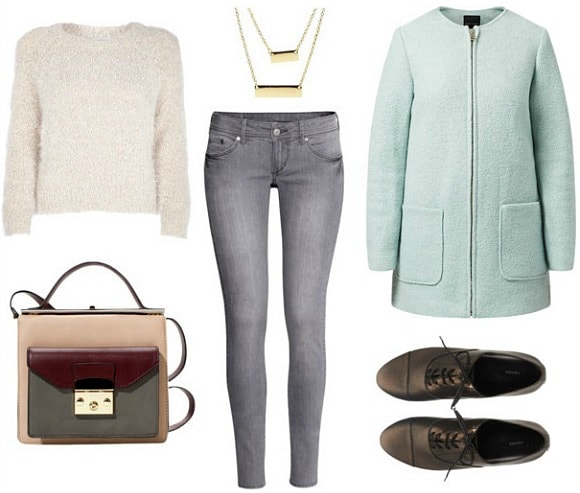 Sweater, Bag, Necklace, Jeans, Coat, Shoes
For the first look, I decided to feature this pretty mint green coat. I paired it with gray jeans and a soft and cozy cream-colored sweater. I love how the pastel coat and sweater are contrasted by darker pieces, like this color-blocked handbag and these bronze oxfords. The resulting ensemble is equal parts soft and structured.
2. The Simpler the Better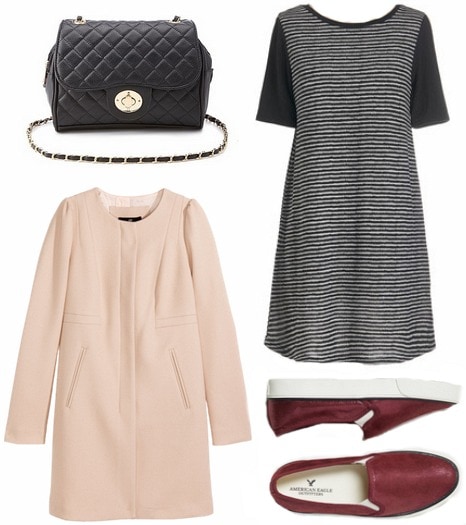 What makes this ensemble unique and stylish is its simplicity. For those days when you want to hit the snooze button a few times, just stick to this easy outfit formula: Wear a comfortable yet edgy t-shirt dress with statement-making slip-ons and a beautiful pale peach coat. Grab a classic crossbody bag and you're ready to go.
3. The Right Kind of Edgy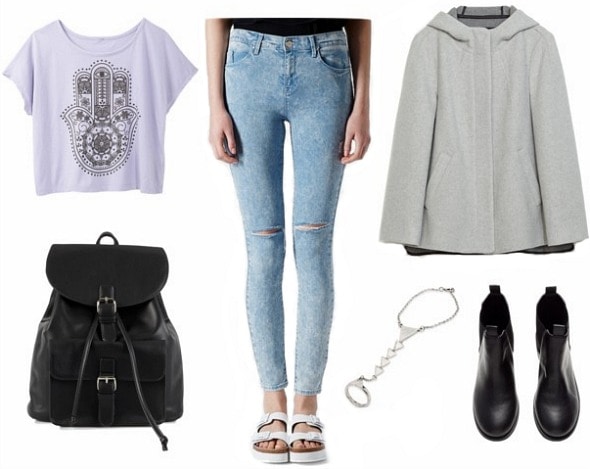 Top, Bag, Jeans, Coat, Ring-Bracelet, Shoes
This look is definitely my favorite of the three. It's edgy but chic and the pastel gray coat really makes the outfit. If you're wary about investing in a traditional pastel-colored coat (like powder blue, lavender, or light pink), this gray version is a fantastic middle-ground, plus you can wear it with everything.
To achieve this cool and easygoing vibe, pair your distressed jeans with a cute graphic t-shirt. I love, love, love the hand of Hamsa motive on this one! Wear a pair of black Chelsea boots and layer on that pastel grey coat. Lastly, accessorize with a trendy ring-bracelet to complete the ensemble.
Tell Me What You Think:
Which of these three outfits is your favorite? Do you like pastel coats? How would you wear one? Remember to tell us your thoughts by leaving a comment below!