This post may contain affiliate links, which means we may receive a commission if you purchase through our links. Please
read our full disclosure here
.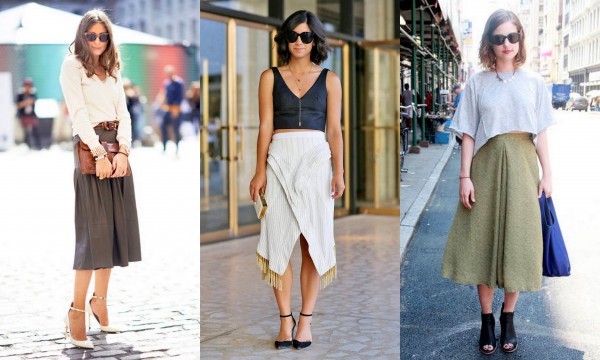 Photos Courtesy of ELLE: 1, 2, 3
Welcome to CF's latest series, Trend Watch. From high fashion to street style, we're covering all the latest trends, then showing you affordable ways to rock each look. This column is all about making super-trendy pieces work for the average college girl, so if you have a trend you would like to see featured here, leave a comment and let us know!
Summer is quickly transitioning into fall, and during this time of year I have been loving the midi skirt. These skirts have a very sophisticated and chic silhouette, but can be a tricky piece to style.
That's exactly where I come in – I'm here to demonstrate how versatile midi skirts can be. Below, I'll show you how I would style a midi skirt. Scroll down to see all three looks:
All Eyes on the Midi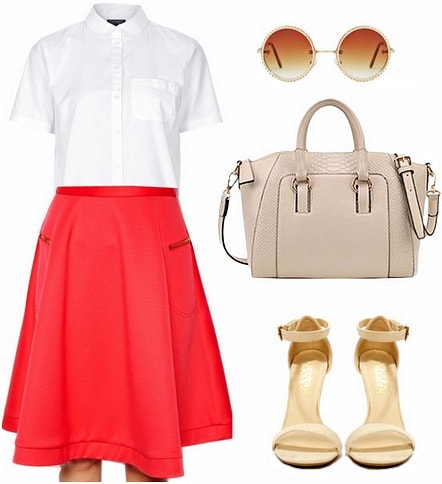 Blouse, Skirt, Sunglasses, Bag, Shoes
The easiest way to pull off a midi skirt is to let it take center stage and keep the rest of your outfit simple and clean. For this look, I paired a crisp, white short-sleeved blouse with a colorful and eye-catching midi skirt.
To balance out the bright color of the skirt, I chose classic pieces, like neutral ankle strap sandals and a tan-colored tote. Since the entire outfit has a vintage feel, I decided to play it up by accessorizing with pearl-studded round sunglasses.
Colorful, Comfortable, and Chic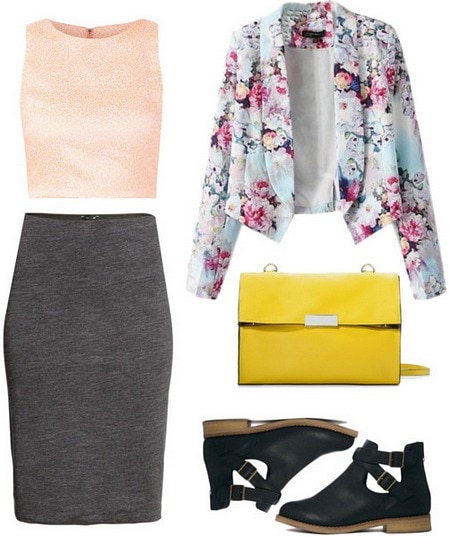 Top, Skirt, Jacket, Bag, Shoes
The pretty colors and floral print found in this outfit remind me of summer, but the fabrics and pieces make this look appropriate for early fall. Start by pairing a fitted jersey knit midi skirt with a pastel crop top that has a high neck.
Grab a pair of cutout boots to create an outfit that's comfortable, chic, and ideal for class. The sleek messenger bag adds a bright pop of color, while the floral print blazer pulls the entire ensemble together.
Sweater Weather and Faux Leather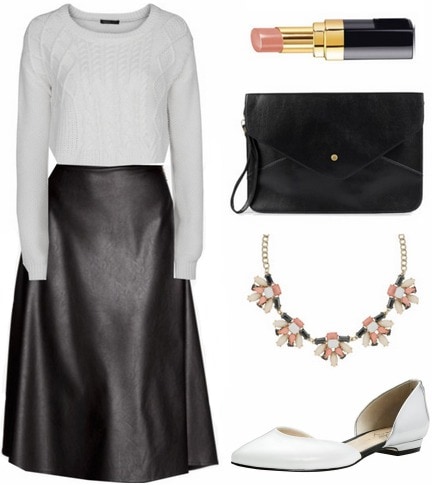 Sweater, Skirt, Lipstick, Bag, Necklace, Shoes
For this final outfit, I wanted to create something that was girly with an edge. That's why I was super-excited when I found this faux leather midi skirt that has a full and classic silhouette. (This skirt is basically perfection!) Complement the edgy faux leather with soft hues for a sophisticated yet on-trend look.
When it gets chilly during those late summer days, just combine the skirt with your favorite lightweight gray sweater and add pastel jewelry, like this gorgeous necklace. D'orsay flats and an oversized clutch dress the outfit up, while a pretty rose-colored lipstick completes the ensemble.
Your Thoughts?
Which of these three outfits is your favorite? Are you planning to give the midi skirt a try? Let us know in the comments below!