This post may contain affiliate links, which means we may receive a commission if you purchase through our links. Please
read our full disclosure here
.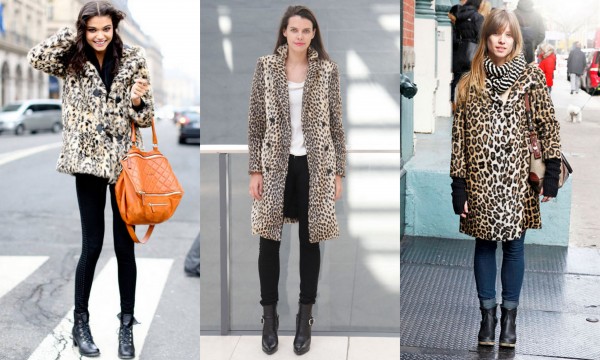 Photos Courtesy of ELLE: 1, 2, 3
Welcome to CF's latest series, Trend Watch. From high fashion to street style, we're covering all the latest trends, then showing you affordable ways to rock each look. This column is all about making super-trendy pieces work for the average college girl, so if you have a trend you would like to see featured here, leave a comment and let us know!
Fall will be here soon and if you're looking to start shopping for outerwear now, then you'll want to know more about our first Trend Watch feature: leopard print coats.
I'm going to start by saying that I was wary about this trend, since I've never been a big fan of leopard print. It's a print that can quickly look tacky, but with the right styling tips and tricks, leopard can look glamorous and add that "wow" factor to any look.
Below, I'll show you how I would style a leopard print coat. Scroll down to see all three looks:
Furry Casual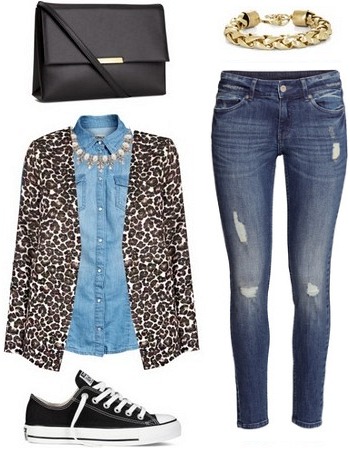 Bag, Jacket, Shirt, Necklace, Shoes, Jeans, Bracelet
This outfit is my favorite of the three, since it is comfortable and utilizes wardrobe basics. Create an on-trend denim-on-denim look by tucking a chambray shirt into distressed jeans. Throw on your comfiest sneakers and grab a sleek messenger bag, then add that gorgeous leopard coat on top.
To finish off the look, pick nice accessories, like this statement necklace in a neutral color and a simple gold bracelet. The key to pulling off leopard in the daytime is to keep the rest of your outfit classic and relatively simple. It really is as easy as that!
Purr-fectly Classic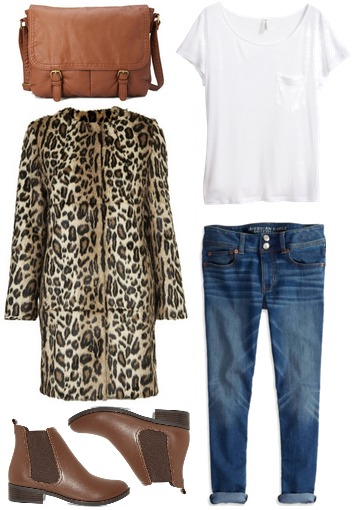 Coat, Shoes, T-Shirt, Jeans, Bag
Using that same "simple yet classic" idea, this next outfit is a great way to change up your basic white t-shirt and jeans uniform. Everything about this look is comfortable, from the cropped jeans and slouchy tee to the flat ankle booties.
Carry a spacious satchel to hold all of your belongings, then top the outfit off with a long faux leopard fur coat. The coat featured here is a bit of a splurge, but if you really love leopard print, consider investing in a statement coat like this one.
A Glamorous Wildcat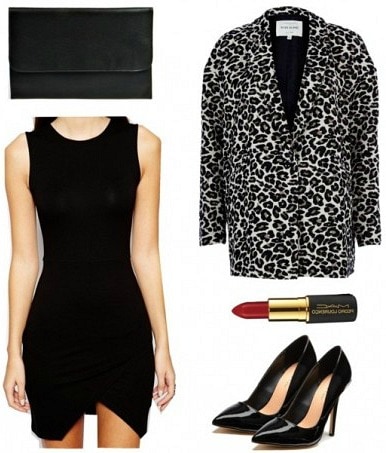 Shoes, Dress, Coat, Lipstick, Clutch
This look is definitely the dressiest out of the three and is ideal for a night out. Combine your favorite little black dress with sleek black pumps and an oversized clutch. The leopard coat will help to keep you warm on a chilly night, plus it adds a glamorous vibe to your outfit.
Of course, no femme fatale look would be complete without a bold red lip, so go ahead and grab your favorite crimson lipstick.
Your Thoughts?
Which of these three outfits is your favorite? How do you feel about leopard prints? Are you planning to give leopard coats a try? Let us know in the comments below!