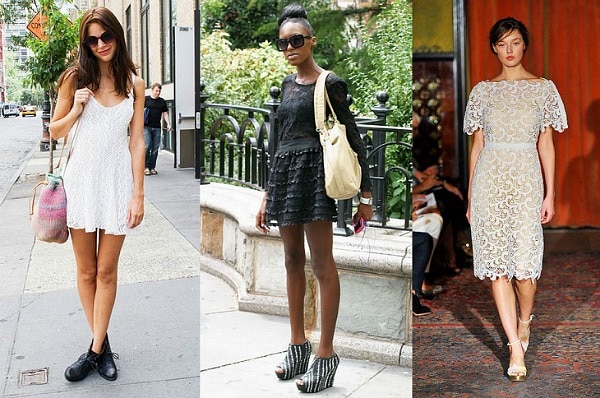 Photos Courtesy of ELLE: 1, 2, 3
Welcome to CF's latest series, Trend Watch. From high fashion to street style, we're covering all the latest trends, then showing you affordable ways to rock each look. This column is all about making super-trendy pieces work for the average college girl, so if you have a trend you would like to see featured here, leave a comment and let us know!
Fall is in full swing, which means pumpkin spice can be found in literally any food and Halloween is coming closer and closer. I also think it's a good time to pull out your favorite lace items.
Lace is a fabric with a romantic vibe that is usually associated with springtime and weddings, but this fall it's more popular than ever. To make this trend work for autumn, I prefer to wear lace pieces in darker shades, but it's so easy to step up a look by layering on a lacy piece or two this season.
Not sure how to style this trend? Scroll down to see how I would wear lace this fall:
A Lacy Situation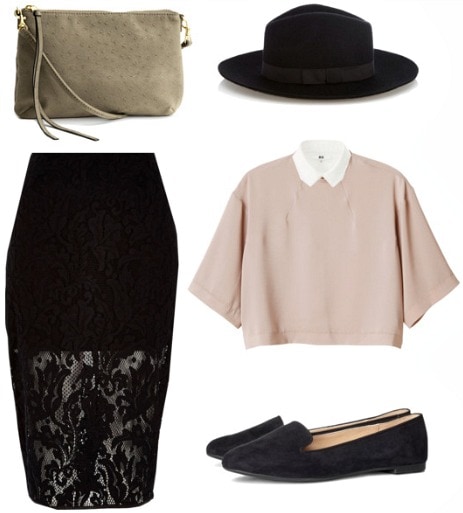 Bag, Skirt, Hat, Blouse, Top, Shoes
Lately, my favorite way to wear lace has transitioned from fitted, long-sleeved lace tops to (you guessed it) gorgeous lace skirts, like the one pictured above. Lace skirts have been a wardrobe staple for me for a long time, but I still have to add a pencil skirt version to my only slightly overflowing wardrobe.
Here is how to style this beauty: Pair your lace pencil skirt with a slouchier top for a nice contrast. I chose this cropped, blush-colored top and layered a sleeveless blouse underneath to add a visible collar. Loafers allow this look to work for daytime, while a black fedora and textured faux leather bag spice things up.
Lovely Lace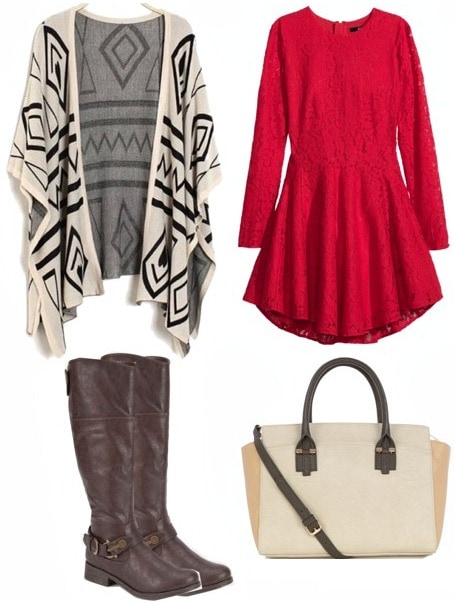 The second outfit features a really versatile lace item. This red lace dress can be worn so many ways and for many occasions. You can dress it up for nighttime with heels and statement jewelry, or dress it down like I did in the look above.
Pair the dress with comfortable and warm pieces, like this knit sweater adorned with a bold geometric print. This structured tote matches the colors found on the cardigan, plus it's roomy enough to carry all of your essentials. Finally, these knee high boots balance out the shorter hemline and make the look work for fall.
More is More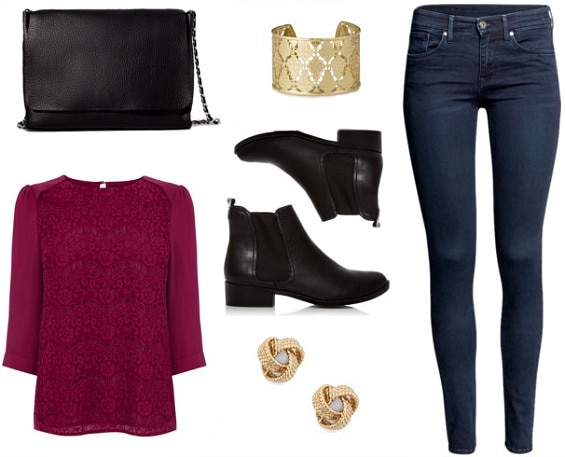 Bag, Top, Bracelet, Shoes, Earrings, Jeans
For the last look, I decided to pair multiple lace pieces together. After all, there can never be enough lace! Wear a burgundy lace blouse with dark wash skinny jeans and black Chelsea boots. The other lace piece I included is this pretty gold bracelet that has "lace" detailing. Accessorize with a matching pair of stud earrings and a black handbag to pull together this casual yet elegant outfit.
Your Thoughts?
Which of these three outfits is your favorite? Are you going to wear lace this fall? Do you own any lace clothing? Remember to tell us your thoughts by leaving a comment!