The time when spring showers will become abundant is quickly approaching, so let's stay fashionably dry this season with draped trench coats.
These jackets create a minimal and chic look that's also super-functional. The lightweight fabric makes them the ideal outerwear for the transition to warmer temperatures, plus the slouchiness of the draped collar looks so cool when you throw one over a casual outfit and head to class.
Check out the three outfit sets below for some inspiration on how to style this chic spring trend.
Mustard: The Bold Color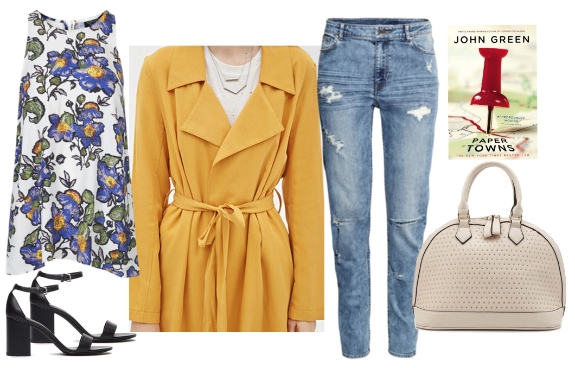 Product Information: Top, Sandals, Jacket, Jeans, Book, Purse
Be bold as you step outside in this colorful jacket. Even if it's raining, the bright mustard will let you be your own sunshine. Pair it with a floral top and girlfriend denim (yes, those jeans are actually described as girlfriend and not boyfriend) for some spring edge.
Complete the look with these easy-to-walk-in sandals with a chunky heel. This outfit would be the perfect thing to wear for a book session in the park. I suggest reading John Green's Paper Towns before the movie comes out!
Tan: The Classic Color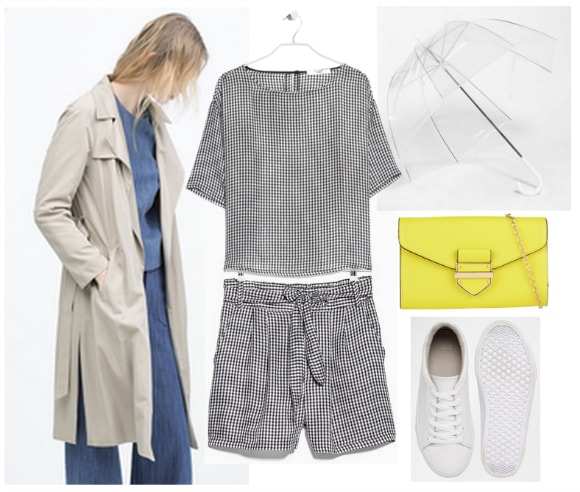 Product Information: Jacket, Top, Shorts, Umbrella, Purse, Sneakers
When it comes to spring outerwear, you can never go wrong with a classic, tan trench coat. The draped detail of this Zara jacket, however, will stand out and give your look a little more pizzazz.
Pair it with this adorable gingham two-piece set from Mango. Add a bubble umbrella and white sneakers, then grab a handbag that provides pop of color (bright yellow, baby blue, pink, etc). People will be complimenting you left and right. Keep it simple and let the outfit speak for itself.
Vest: The Different Take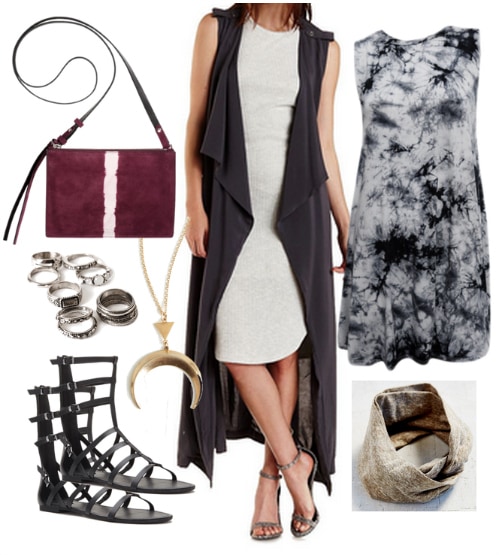 Product Information: Purse, Rings, Necklace, Gladiators, Vest, Dress, Headwrap
Opt for something that's more on the "mythical" side by pairing this draped, trench-style vest with a tie-dyed dress and a half-moon necklace. A vest jacket like this looks best with sleeveless tops and dresses, but can be paired with long sleeves as well.
Once you add trendy gladiator sandals and wrap your hair up, you'll have a fashion-forward look that's perfect for a casual coffee date.
Tell Us Your Thoughts!
Now it's your turn to share what you think about draped trench coats. Are you ready to sport this spring trend? How would you style it? Comment below – we'd love to hear from you!