This post may contain affiliate links, which means we may receive a commission if you purchase through our links. Please
read our full disclosure here
.
This spring is all about denim, and trends like denim dresses, bell-bottoms, and embroidered jeans can be spotted everywhere. So, when I saw retail stores with an abundance of denim skirts to choose from, I was not surprised.
The denim mini skirt was all the rage in the '90s and I'm kind of glad it's back (with way more style points, I might add). This season, all types of denim skirts are trendy, from patchwork and distressed ones to girly A-line and long-lined skirts.
Although there are hundreds of denim skirts out there, for this Trend Watch post, I picked out my three favorites. Check out the outfit sets below to get inspired to create your own denim skirt look.
Girly Girl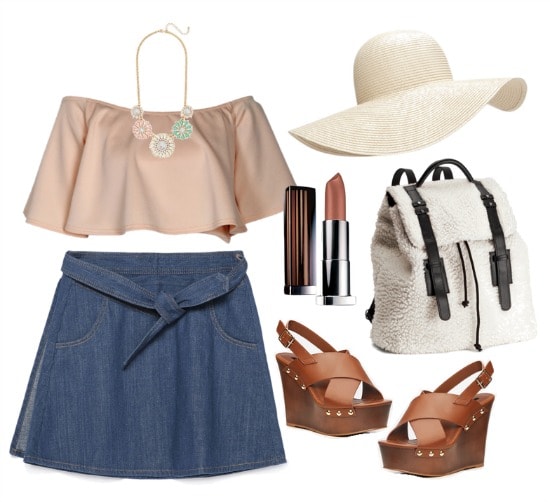 Product Information: Necklace, Top, Skirt, Hat, Lipstick, Backpack, Wedges
This denim skirt would fit in with any girly girl's wardrobe. Pair this A-line skirt with a flowy blouse to create an adorable, feminine ensemble. Create a vintage vibe with '70s-inspired studded wedges and a floppy hat. Finish with nude lipstick for the perfect beauty look.
Wildflower Brunch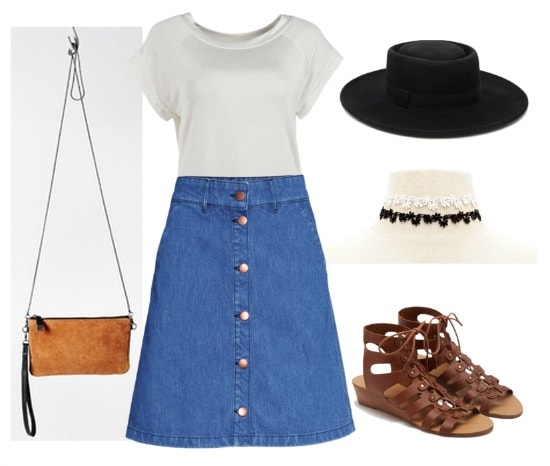 Product Information: Bag, Top, Skirt, Hat, Necklace, Shoes
A denim skirt can be casual, yet trendy at the same time. Thank goodness, right?! This look is perfect for a Sunday brunch or, if you're feeling adventurous, a walk through the park picking wildflowers. It's super-simple yet stylish. A basic t-shirt, sandals, choker necklaces, and a felt hat are all you need.
Rainy Day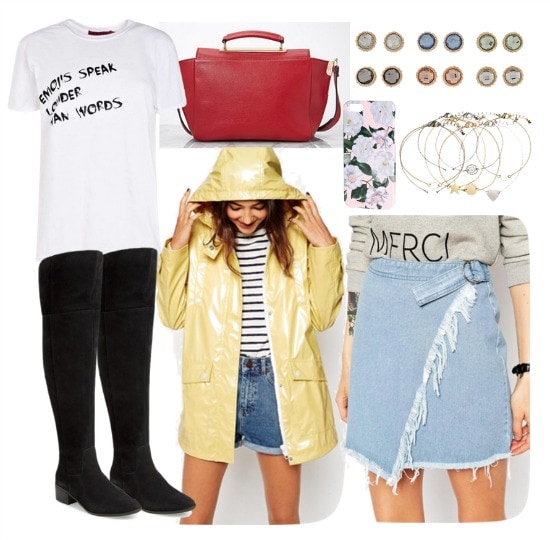 Product Information: Top, Boots, Bag, Jacket, Earrings, Phone Case, Bracelets, Skirt
It's raining! Oh no, what do you wear? Well, a denim skirt paired with a graphic t-shirt and a yellow (or other light-colored) rain jacket is the answer. It's a fun way to brighten up your otherwise dreary day. Add a bright red bag, a charm bracelet, and dainty, pastel earrings to accessorize the outfit. Try this look instead of just throwing on sweatpants the next time it rains.
Tell Us What You Think!
Are you going to try a denim skirt this spring? Which outfit is your favorite? What other denim styles do you absolutely love? I want to know how you would style this trend, so comment below to get the conversation going!