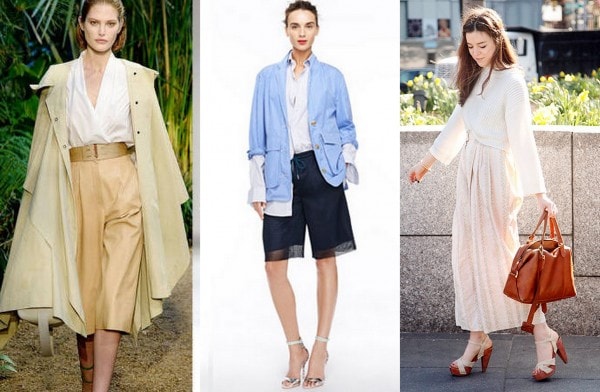 Photo Courtesy of ELLE: 1, 2, 3
Welcome to CF's series, Trend Watch. From high fashion to street style, we're covering all the latest trends, then showing you affordable ways to rock each look. This column is all about making super-trendy pieces work for the average college girl, so if you have a trend you would like to see featured here, leave a comment and let us know!
There are trends which make me feel like I've literally been waiting for them to happen, and then there are those trends which make me question whether anyone could actually pull it off. For this Trend Watch post, I decided to face one this year's bolder trends: culottes.
They've been around since summer, but I am now finally ready to wear and pull off culottes. These flowy pants can look chic or sporty and are just so relaxed and comfy. If you haven't considered culottes yet, I say give them a try!
Scroll down to find out how I would style culottes:
Boho Glam
Blouse, Bag, Pants, Hat, Cardigan, Shoes
When it comes to styling culottes, the first idea that immediately jumped into my head was a boho ensemble that is chic in an effortless way. To achieve the look, wear a bold pair of floral culottes with a loose blouse, then layer on a comfortable knit cardigan. Accessorize with a fedora and a fringed bag to add that special je ne sais quoi to the outfit. Finish with a pair of faux leather ankle booties.
Fabulous Comfort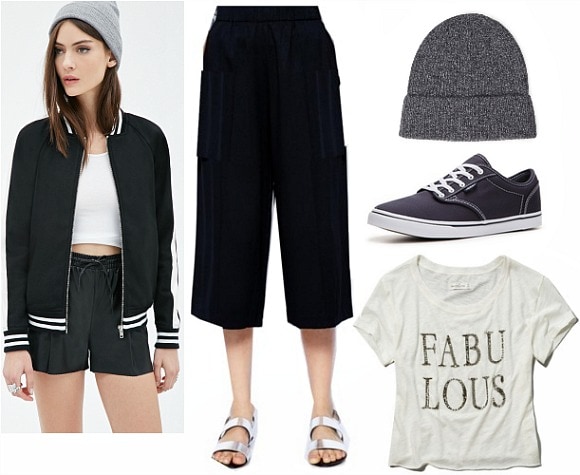 Varsity Jacket, Culottes, Beanie, Shoes, T-Shirt
For a more relaxed look, pair a varsity jacket and a statement t-shirt over a comfortable pair of black culottes. Just wear your favorite worn-in sneakers, as well as a beanie to keep you warm in the chilly fall temperatures. You'll look fabulously on trend without sacrificing comfort.
Adding a Bit of Culotte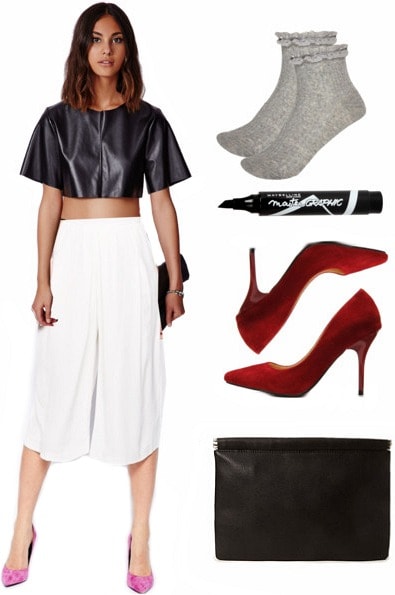 Top, Pants, Socks, Eyeliner, Shoes, Bag
The last look is the perfect outfit for a night out. Stand out in a pair of white culottes and a boxy faux leather crop top, then carry a matching black clutch. I love how the classic black-and-white combination looks so unique and shows off some killer style.
Make the outfit really pop with a statement-making pair of red pumps, and if you want to go the fashion-forward route, wear them with ruffled socks. Use eyeliner to create a graphic makeup look and complete this spotlight-stealing ensemble.
Tell Me What You Think:
Which of these three outfits is your favorite? What do you think about culottes? Have you ever tried to wear a pair? And how would you style your culottes? Remember to tell us your thoughts by leaving a comment below!