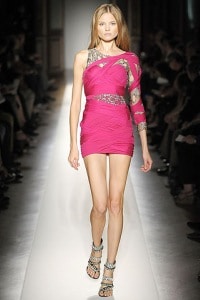 With a new year comes lots of new fashion trends. But which ones will be popular and which ones will fizzle out? What should you buy now to prepare for the rest of the year?
Here are some of my picks for what's going to be huge in '09!
2009 Fashion Predictions

One-shoulder tops & dresses
Break out your strapless bra, because one-shoulder is going to be hot this year! Asymetrical dresses were all over the Spring 2009 runways, and it's already a trend that's being picked up by mainstream stores. Expect to wear this look a lot in '09.

Ripped jeans
These are huge already, but they're going to get even bigger over the rest of the year. I'm not talking a few holes in the knees of your denim, I mean seriously shredded jeans a la Margiela as seen in this photo. Stores like Topshop have already started selling their own versions, and it's only a matter of time before they're everywhere.

Metallics
Shiny shades of gold, silver, bronze, and platinum aren't going anywhere soon! Metallics are always hot and I don't see that changing much this year. I know I'll continue to rock my favorite silver metallic bag. What about you?

Wide-leg AND skinny jeans
Last year's wide-leg denim trend is still going strong, but don't forget about skinnies either – yes, skinny jeans are still in style. I recommend investing in both styles of denim if you like them both, but if not, pick the one that you think flatters you the best. Both styles are great on many figures.

Bold colors
Bright shades are always hot for spring, but even more so this year! The most popular colors will be hot pink, purple, orange, electric blue, and yellow.

Sheer
Sheer clothing is usually in style for spring, and I'm sure this will continue. We saw lots of sheer, layered dresses on the runways for Spring 2009 back in fall, and although they take a bit of planning to pull off, I think sheer clothes will catch on in the mainstream.

More body-conscious clothing
Loose is not going to be in for 2009, so learn to love tighter clothing that cinches you in at the waist. This is a definite trend for the year. Here's an article I wrote about the cinched waist trend from last year – it's still required reading for 2009.

More focus on individual style
I've talked about this before, but I think the focus in 2009 is going to shift a little from trend-centered dressing to dressing based on your individual style. You aren't going to want to follow all the trends in 2009, instead you'll probably pick and choose from the ones that flatter you and ditch the ones that don't. And this is the right way to do it! Nothing looks great on everyone, and nothing fits everyone's style. Wear the pieces that work for you, and skip everything that doesn't.
What are your 2009 fashion predictions?
Now that you've seen what I think will be hot in '09, I want to hear your predictions. What are you looking forward to wearing this year? Which trends will stay from 2008 and which won't last? Leave your thoughts in the comments section.