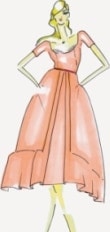 Bill Blass for Pantone
Even though it's January, and spring seems really far away, it's not too early to start planning for spring fashion. Knowing what the trends will be ahead of time will help you make smart purchases now and save some money by picking up key items before the trend hits.
One key factor in predicting fashion trends is color. Each season there are a few key colors that come into fashion, and Pantone, Inc. is the authority on predicting which colors will be next.
According to Pantone's Spring 2008 Fashion Color Report, spring '08 fashion will be characterized by "stabilizing neutrals combined with pops of brighter colors to create unique, distinctive looks."
The report also lists Pantone's picks for the Top 10 Fashion Colors of Spring 2008. In case you don't want to go to the trouble of downloading the pdf, here they are in no particular order:
Golden Olive (PANTONE 16-0639)
Spring Crocus (PANTONE 17-3020)
Rococo Red (PANTONE 18-1652)
Pink Mist (PANTONE 13-2805)
Croissant (PANTONE 16-0924)
Freesia (PANTONE 14-0852)
Cantaloupe (PANTONE 15-1239)
Daiquiri Green (PANTONE 12-0435)
Snorkel Blue (PANTONE 19-4049)
Silver Gray (PANTONE 14-0000)
What do you think of the Spring 2008 colors? Which is your favorite? Do you hate them all? Let me know your opinions in the comments!