I've gotten a few requests lately for info on the hot trends in denim for fall 2008. I'm happy to say that the hottest jean trend this fall is… to wear whatever styles look best on you!
This year, almost anything goes when it comes to jeans! There really aren't any defined trends, so retailers are carrying a little bit of everything.
This is good news for everyone – it means you can pick and choose whatever kind of jeans you like, and probably find them in any store.
Here are some of the popular styles of jeans that are hot for fall:
1. Wide Leg / Trouser Style Jeans
Probably the trendiest denim style for fall, wide leg jeans are a fresh change from last year's skinny jean obsession.
If you're wondering how to wear wide leg jeans, here are some tips: First, make sure to wear something fitted on top, otherwise you'll risk looking big all over!
Second, go for longer inseams, and wear your wide-leg jeans with heels if possible. This will make your legs look super-long! Every woman can benefit from longer-looking legs.
Here are some examples of cute wide leg and trouser style jeans, some of which are budget-friendly:
From Left:Roxy Gwen Wide-Leg Jeans, Distressed Wash $49.50, DKNY Jeans Striped Wide-Leg Jeans: $55.30, INC International Concepts Stretch Wide-Leg Jeans $69.00
2. Skinny Jeans
They're not as popular as they were last year, but skinny jeans aren't out of style yet!
If you love your skinny jeans, keep wearing them with pride this season. If you don't think you can wear skinny jeans, I recommend giving them a shot. They really are more flattering on slim to average body types than you'd think.
Here are some cute and affordable skinny jeans: From Left: .Lucite Skinny Jeans $29.99, Dollhouse Colored Skinny Jeans $39.99, Pebble Skinny Jeans $29.99
3. Distressed Jeans
Yup, they're back! Ripped, stained, faded, and shredded up jeans haven't been a big deal for years now, but they're back in style with a vengeance this fall.
Distressed jeans are perfectly casual – they are great for wearing to class, on weekends with the girls, or hanging out in your dorm. The other great thing about distressed jeans is that they're unique and eye-catching – you can get away with wearing a more simple top when your jeans stand out.
Some cute & inexpensive distressed jeans are below!
From Left:Hydraulic Nikki Destruction Skinny Jeans $48.00, Silver Jeans Tuesday Destruction Jeans $75.00, ZCO Destruction Boot-Cut Jeans $48.00
4. Dark Wash Jeans
Flattering on everyone, the dark wash jean is not only a hot trend for fall, but a smart fashion buy!
I recommend that every girl have a pair of dark-wash jeans in her closet, because they're so versatile and classy. Wear them with heels for a night out, or cute flats for a classic, put-together daytime look.
If you're on the curvier side, dark-wash jeans are a must-have! They lengthen and slim your legs to create long lines, which any body type can benefit from.
A few cute and classy pairs that I found online: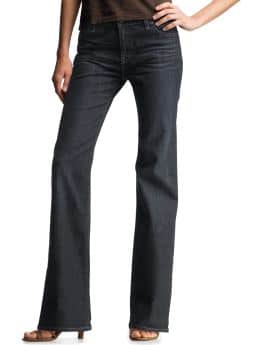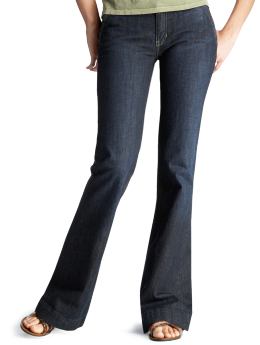 From Left: 7 For All Mankind Straight-Leg Jean, Los Angeles Dark Wash $165.00, GAP Essential jeans – dark tint $69.50 GAP Favorite trouser jeans – dark $69.50
5. Regular Boot Cut Jeans
My favorite on this list, and a style that universally looks great on all body types. Boot cut jeans will always be in style, making them one of the smartest fashion buys out there.
Invest in a pair that fits you perfectly – if you need help finding brands that will fit, take the True Jeans Quiz , it's fabulous.
If you're looking for a new pair of boot cut jeans, check out my picks below!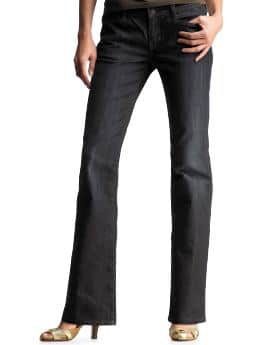 From Left:7 For All Mankind Boot-Cut Flynt Jean, NY Dark Wash $150.00, GAP Curvy boot cut jeans – Atlantic Blue $69.50, The Osa Boot-Cut Jean $62.40
Your Thoughts?
Which of the denim trends for fall is your favorite? Are you all for wide-legs, still stuck on skinnies, or loving the classic boot cut? Let me know your thoughts in the comments!