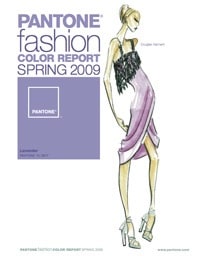 I know it's barely even fall yet, but to the fashion industry, it might as well be spring! New York Fashion Week is going on right now, and that means everyone is buzzing with ideas about the hottest spring trends.
Pantone has just released their Fashion Color Report for Spring 2009, a list of the most popular colors that designers are using in their spring collections.
Pantone is usually pretty accurate with these colors, so you can expect to see many of these shades all over the place this spring. If you want to get ahead of the trends for spring, I recommend picking something up in one of their colors.
Here are the top ten colors for spring in no particular order:
Fuchsia Red (Pantone 18-2328)
Salmon Rose (Pantone 15-1626)
Palace Blue (Pantone 18-4043)
Lucite Green (Pantone 14-5714)
Super Lemon (Pantone 14-0754)
Dark Citron (Pantone 16-0435)
Lavender (Pantone 15-3817)
Vibrant Green (Pantone 16-6339)
Slate Gray (Pantone 16-5804)
Rose Dust (Pantone 14-1307)
If you want to learn more about these colors, you can download the Pantone Fashion Color Report for Spring 2009 as a PDF. Inside, you'll be able to check out gorgeous fashion illustrations and designer opinions. There is also a section at the end with a list of each designer's "Must Haves for Spring."
What do you think of the fashion colors for spring 2009? Which is your favorite? Let me know your thoughts on these shades in the comments!