This post may contain affiliate links, which means we may receive a commission if you purchase through our links. Please
read our full disclosure here
.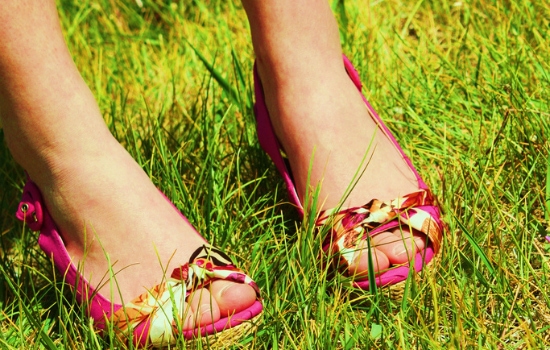 Spring has sprung, CF readers, and as much as we're excited about the longer, sunnier and much warmer days, we're equally as pumped to tell you about all the hot new spring trends.
Last week we gave you the 411 on a few of the season's hottest clothing trends and now we're giving you the scoop on this spring's best shoe trends. Scroll on down and take a peek at our top 5 shoe trends for Spring 2012:
1. Cap-Toe Ballet Flats
Cap-toes have always been a classic adornment for flats, but this spring these embellishments have been given a fresh new look. Cap-toe flats that incorporate bright colors, metallics and cut-outs are especially trendy for spring. However, if you want to amp up the style some more, look for a pair of cap-toe flats with a pointy toe because that shape will be back in a big way this season.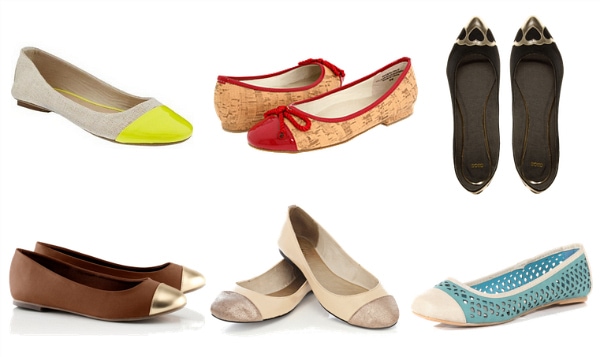 Top: Cap-Toe Canvas Ballet Flats- Old Navy, Cybil Cork Flats- Zappos, Loveheart Ballerina Flats- ASOS
Bottom: Metallic Ballet Flats- H&M, Glitter Toe Flats- Oasis, Aqua Cut Out Cap Toe Flats- Dorothy Perkins
2. Abstract Prints
Make your footwear the ultimate statement piece by picking up a new pair of shoes covered with an ultra-trendy abstract print. Everything from platforms and wedges to flat sandals and slip-ons have been adorned in colorful and unique prints, so find your ultimate pair for spring and rock them with all your favorite warm-weather clothes.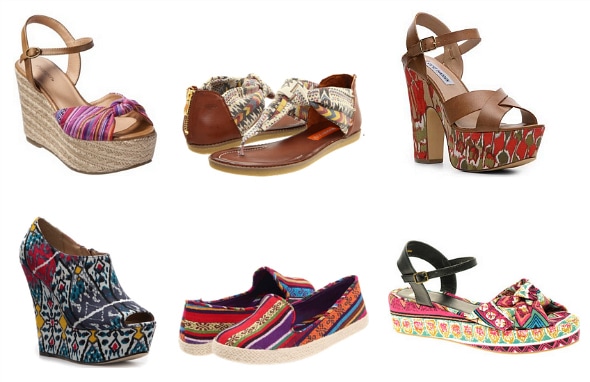 Top: Twyla Espadrille Wedges- Target, Shell Sandal- Rocket Dog, Kia Sandal- DSW
Bottom: Ryland Wedge Pump- DSW, Haiky Espadrille Flats- Zappos, Vezza Flatforms- ASOS
3. Two-Strap Flat Sandals
Flat sandals are the quintessential go-to shoe for warm weather, but be on the lookout this season for the trendy two-strap versions. As the name suggests, these sandals consists of two straps — one on the ankle and one around the toes — for a chic and minimalist look. There are tons of these sandals available right now in every style and price range, but here are our budget-friendly picks for spring.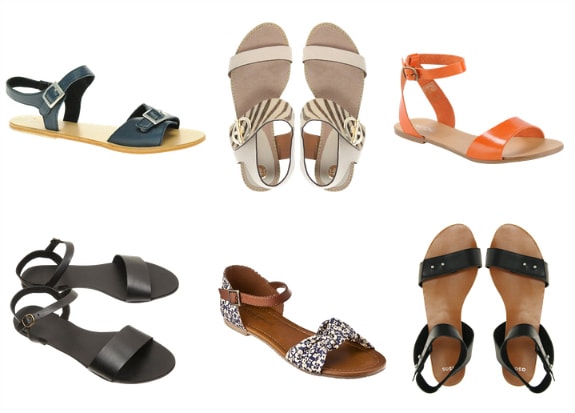 Top: Flutter Flat Sandals- ASOS, Zebra Cuff Sandals- River Island, Brendle Sandals- Aldo
Bottom: Houpla Sandals- Topshop, Wilton Flat Sandals- Target, Frisk Flat Sandals- ASOS
4. Flatforms
Flatforms were quite the controversial trend last year and they're back again for spring. Before you write them off, you should know that this season's offerings are a little less 'Spice Girls' and a lot more chic. Look for low-rise flatforms or — if you can't stand the completely leveled look — try out a pair that rises up slightly on the back, as it gives the illusion of a slight wedge.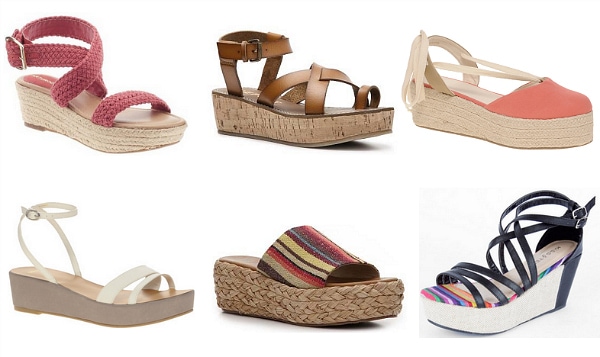 Top: Lily Espadrilles- Piperlime, Sunset Wedge Sandal- DSW, Voodoo Flatforms- ASOS
Bottom: Vienna Flatforms- ASOS, Cubana Wedge Sandal- DSW, Lorelei Flatforms- Tobi
5. Colorful Boat Shoes
Discover your inner prepster this spring by picking up a pair of brightly-hued boat shoes. These classic shoes have been given a makeover with a fresh dose of color, giving them a fun and modern vibe. Whether you like pastel, neon or primary shades, there's bound to be a boat shoe out there in your favorite hue. You can even try a fun floral print, if that's your style!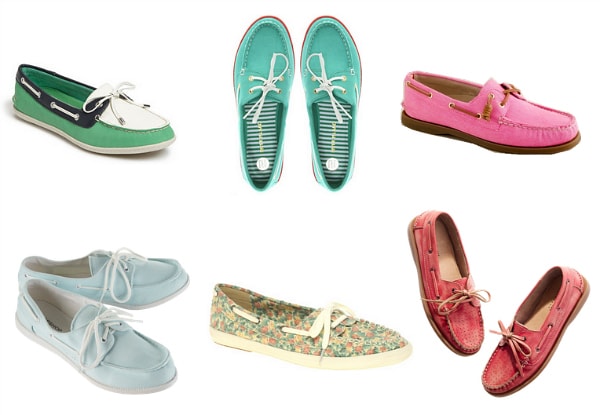 Top: Montauk Boat Shoes- Sperry, Cavas Boat Shoe- River Island, Sperry Boat Shoe- J. Crew
Bottom: Trapeze Boat Shoes- Topshop, Milo Boat Shoes- ASOS, Aunt Babbs Boat Shoes- Madewell
Your thoughts?
What do you think of these shoe trends? Will you be buying some new shoes for spring? Which trends are you looking forward to wearing this season? Any footwear trends you'll be skipping? Remember to leave a comment below and let us know what you think!