This post may contain affiliate links, which means we may receive a commission if you purchase through our links. Please
read our full disclosure here
.
From New York to Los Angeles, streetwear has been dominating the fashion industry. Even high fashion brands, such as Givenchy, Raf Simons, Moschino and Comme des Garçon, have been appreciating streetwear– so much so, that their silhouettes presented during fashion weeks are inspired by it.
In this post, I'm going to share the best resources to check out for streetwear inspiration, as well as some summer-appropriate outfit ideas. Read on to learn more:
Streetwear 101
Started in the West Coast surf and skate culture, streetwear is a particular style of street fashion that blends hip-hop fashion, Japanese street fashion, modern haute couture, fast-fashion, and many other pop cultural aspects.
Let's be real though, there's no specific definition for streetwear, because it always evolves when clothing companies introduce new styles.
Shawn Stussy, owner of Stussy Brand, began the street style culture when he started selling printed t-shirts with the same design that he printed on his custom skateboards. Afterwards, many streetwear brands started forming; some of the most prominent ones were LRG, XLARGE, Triple Five Soul, and Ecko.
Today, brands like Huf, Diamond Supply Co., Supreme, Hellz Bellz, DimepieceLA, and Married to the Mob are popular among trendsetters. There are also brands that mix streetwear with high fashion, including Hood by Air, Off White, and Nasir Mazhar.
When it comes to buying streetwear, I like to go on KNYEW for streetwear brands like Stussy and Hellz Bellz, and Opening Ceremony for high streetwear and high fashion brands like Acne Studios and Kenzo.
Instagram is such an amazing tool for streetwear inspiration. After all, everyone has an Instagram account, including all of the companies mentioned above. I like to get my inspiration from a brand's Instagram profile because they post outfits of their clothes that their customers wear.
Also, my current favorite babe on Instagram that I follow is Alealimay. She's the epitome of a streetwear queen, so be sure to follow her if you're into this look.
How to Get the Look
Many elites have embraced the fashion scene and aren't afraid to mix and match streetwear and high fashion silhouettes. Blending high-end pieces with streetwear staples is a surefire way to stand out in the crowd, and it's an easy way to add personality to any look.
If there's a particular style that you see from a high-fashion brand that you want to wear with your streetwear piece then go for it, girl!
Women wearing menswear has also been popular in the streetwear scene. The bagginess of the clothes gives your outfit a relaxed yet chic look. Maybe you just love a particular men's t-shirt and want to wear it as a dress and top it off with a pair of sneakers. You can also layer up with a long men's t-shirt and leggings. The combinations are endless!
One of my favorite combinations is pairing sneakers with dresses or skirts. Whether it's high-tops, low-tops, or slip-ons, everyone's sporting sneakers this season, and the street style pics above show just how versatile this look can be.
Remember, when it comes to streetwear, have fun with it! Mix colors and prints, high-end pieces with laid-back ones, and show off your sense of style. Below are two outfit ideas for you girls to check out for inspiration.
Chic on the Street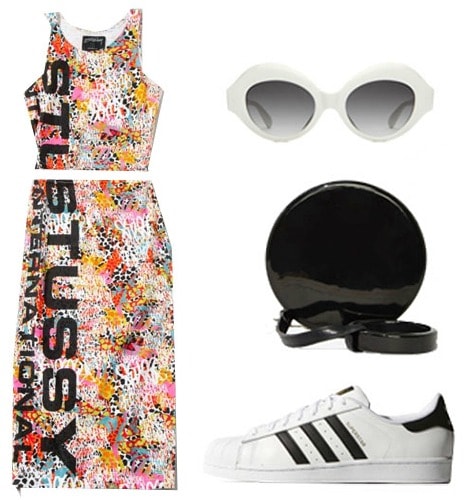 Product Information: Two-Piece Dress, Shades, Bag, Shoes
Sporty Streetwear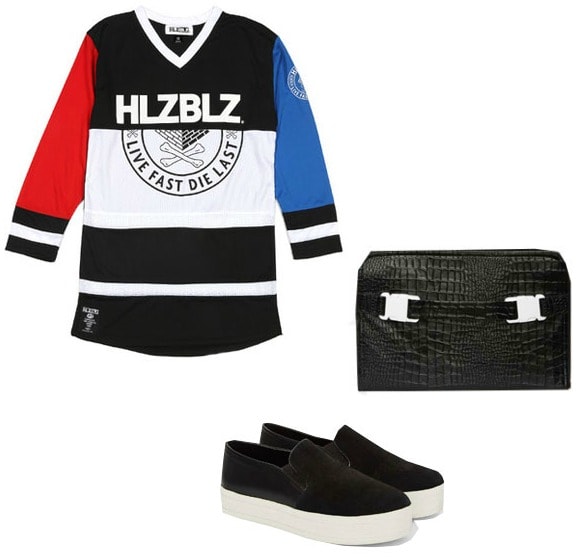 Product Information: Dress, Shoes, Clutch
What do you think?
Would you guys rock streetwear and/or high fashion streetwear? What do you think of the sneaker/dress combination? What's your favorite streetwear look? Have questions or comments? Tell us your thoughts down below!