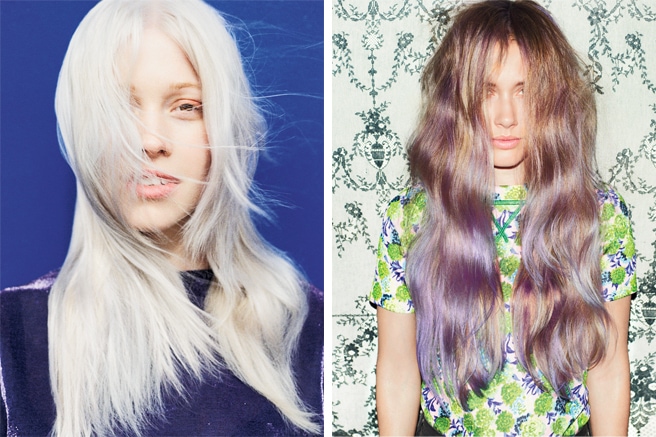 It's almost May and Coachella is over, which means that summer is practically here. If candy-colored hair wasn't already a mainstay of summer style, the extensive coverage on Kylie Jenner's rainbow of wigs indicate that the trend is definitely here to stay.
Whether you've been itching to take the Manic Panic plunge or are looking for a new way to rock your rainbow hair, here are six looks to get you ready for the summer music festival circuit.
1. Going Monochrome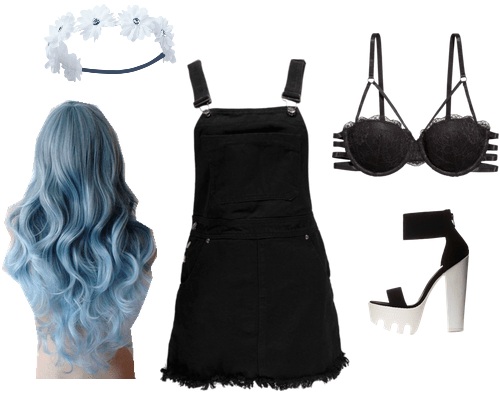 Product Information: Flower Crown – Wet Seal, Wig – Etsy, Dungarees – Boohoo, Bralet – H&M, Platforms – Charlotte Russe
Think of your brightly-colored hair the same way you'd regard an elaborate statement necklace or a killer pair of over-the-top platforms. One of my favorite ways to rock pastel hair is by going all-black.
For this look, I've gone with the ever-so-summery bralet under black dungarees. Platform heels continue to be a major trend, and I love the color-blocked effect of this pair. Add a twist to the quintessential Coachella flower crown with a monochrome version, which pops beautifully against bright hair.
2. Platinum Mania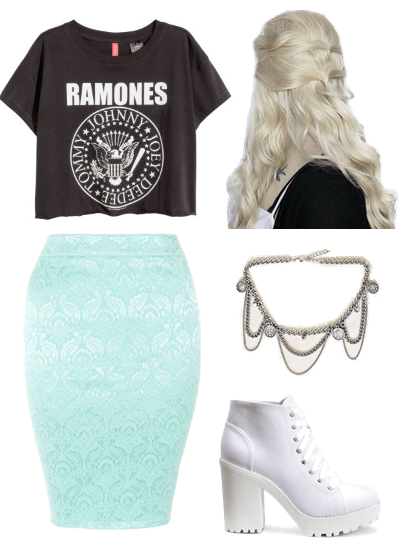 Product Information: Shirt – H&M, Skirt – New Look, Wig – Etsy, Choker – Styles For Less, Platforms – H&M
If you've got dark hair, you'll probably need to bleach it white-blonde first – so you might as well have fun with your Daenerys-colored hair! While platinum blonde doesn't get the same hype as lilac or teal, it's the most versatile shade if you're looking for a change.
Since blonde hair is so neutral, I went with an unexpected twist on music festival must-haves. Wearing your choker and a cropped band tee with a lace midi skirt and crystals turns your Vans Warped staples into a girly date night ensemble.
3. Matchy-Matchy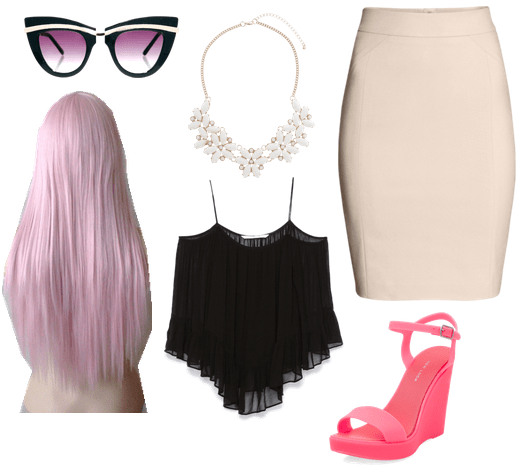 Product Information: Sunglasses – ASOS, Wig – Etsy, Necklace – Dorothy Perkins, Top – Zara, Skirt – H&M, Heels – New Look
Color-blocking rules totally apply with crazy-colored hair. If you're not sure where to start, matching your shoes to your hair is a great way to incorporate color into an otherwise monochrome ensemble.
This polished, brunch-appropriate look has a sophisticated silhouette with some fun touches. I love these hot pink wedges – they're fun and fashion-forward, but don't steal the show from the bubblegum mane you worked so hard to get.
4. Cabana Comfort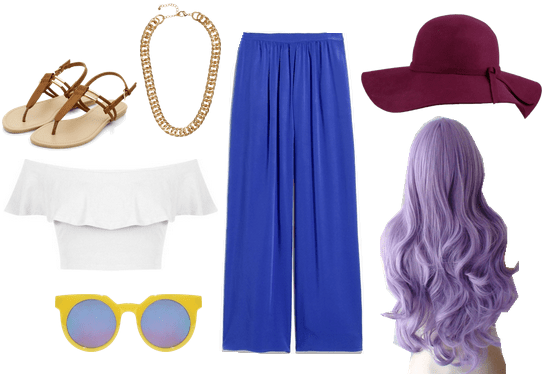 Product Information: Sandals – New Look, Necklace – H&M, Top – Miss Selfridge, Sunglasses – Necessary Clothing, Pants – Mango, Hat – Amazon, Wig – Etsy
Palazzo pants? Yes please. I'm crazy about effortless resort style, and rainbow hair adds immediate Insta-glam to these summer style staples.
The easiest solution to any 'I have nothing to wear!' morning is to throw a wide-brimmed floppy hat in a complementary color over your hair. Off-the-shoulder silhouettes and simple palazzo pants are really all you need – but any outfit can benefit from this pair of statement shades.
5. My Little Pony-esque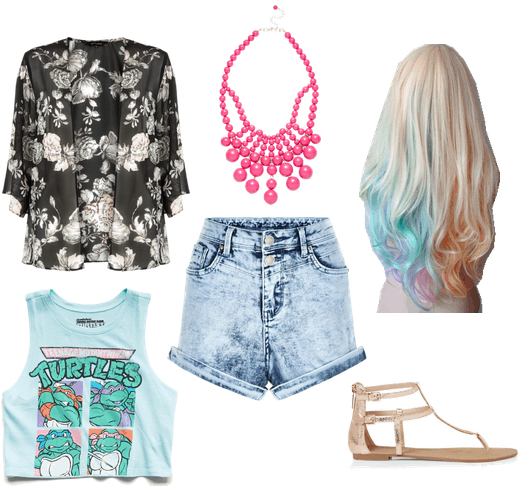 Product Information: Kimono – New Look, Top – Forever 21, Shorts – New Look, Necklace – Ashley Stewart, Sandals – Express, Wig – Etsy
If you can't decide on a shade, but don't have Kylie Jenner's colorist or wig collection, emulating Rainbow Dash is always fun. Mixing together multiple hues to create an ombré effect is actually super-easy to style: don't be afraid of clashing colors!
With hair that bright, you'd be hard-pressed to find colors that don't clash – embrace it instead. I've gone with a colorful crop top and a kimono cardigan, which both look super-striking with a rainbow mane. When in doubt, you can't go wrong with a kimono cardigan, a.k.a. the Holy Trinity of music festival essentials, next to crop tops and flower crowns.
6. Going Gray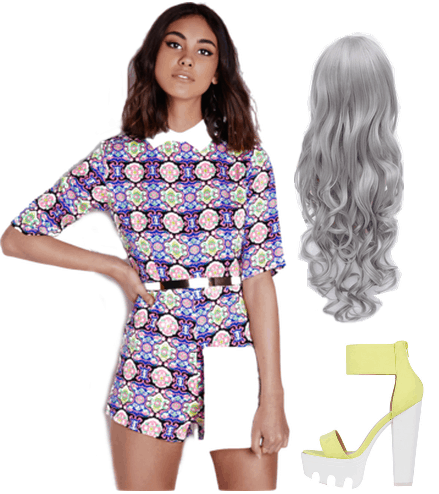 Product Information: Romper – Missguided, Heels – Shop Akira, Wig – Amazon
Gray hair is the hottest color among Manic Panic lovers this season. It's neutral, goes with any number of colors, and won't clash with any prints you might want to try.
If you're feeling avant-garde, this loud baroque playsuit is my pick for warm summer nights out. The eye-catching print doesn't overwhelm gray hair, but pastel hair in any shade will play nicely with neon hues. Bonus points if you go with bright-colored heels, too!
What do you think?
Are you lusting over candy-colored hair, too? Would you try rainbow ombré hair? How would you style your colorful hair (or wig)? Let me know in the comments!