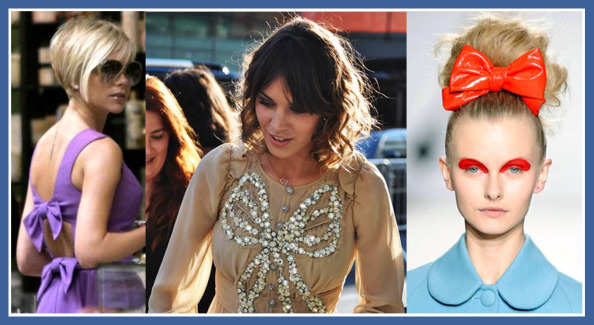 Victoria Beckham, Alexa Chung, and Luella Spring 2010on the runway. Photo Credits: 1, 2, 3.
Garments and accessories featuring bows have been springing up everywhere for a little while now, and the trend is still going strong for Summer 2010 (which *officially* started today). Bows are a perfect way to add some feminine flair to any outfit, either as a delicate accent or a bold fashion statement. Below is a collection of clothing and accessories featuring bows to suit any style and budget.
1. Classic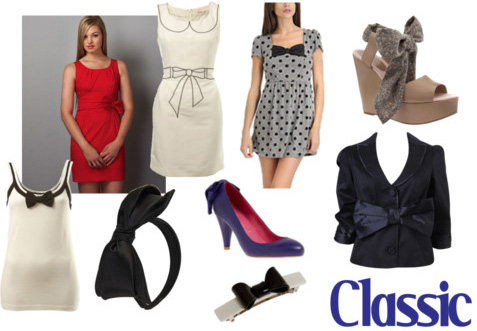 Product Information: Tank- Miss Selfridge, Red Dress- Lulus, White Dress- Miss Selfridge, Gray Dress- Forever 21, Wedges- Gap, Headband- Forever 21, Heels- Modcloth, Barrette- Modcloth, Blazer- Forever 21.
2. Sweet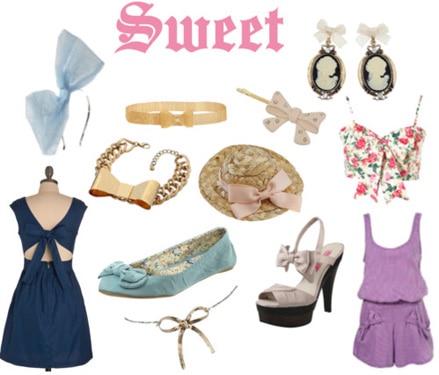 Product Information: Dress- Fred Flare, Headband- Topshop, Bracelet- Miss Selfridge, Belt- Modcloth, Hat Hairclip- Miss Selfridge, Bobby Pin- Topshop, Earrings- Topshop, Top- Topshop, Romper- Topshop, Heels-Payless, Necklace- Urban Outfitters, Flats- Miss Selfridge.
3. Edgy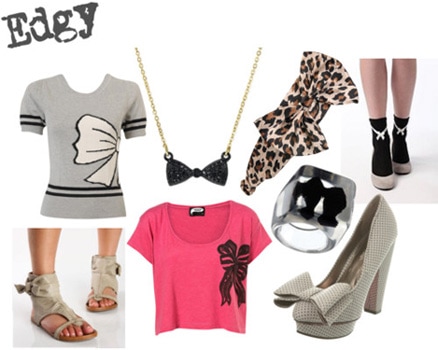 Product Information: Top- Forever 21, Sandals- Lulus, Pink Top- Topshop, Heels- Miss Selfridge, Ring- Miss Selfridge, Necklace- Nordstrom, Headband- Forever 21, Socks- Urban Outfitters.
4. Nautical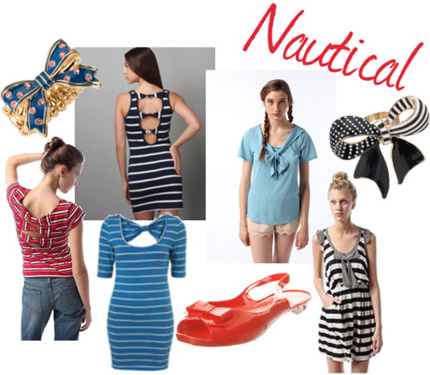 Product Information: Striped Top- Urban Outfitters, Ring- Nordstrom, Sleeveless Dress- Lulus, Blue Stripe Dress- Topshop, Flats- Miss Selfridge, Top- Urban Outfitters, Ring- Topshop, Dress- Urban Outfitters.
What do you think?
Have you been incorporating bows into your wardrobe this season? How do you like to wear them? Which style is your favorite? Let us know with a comment!