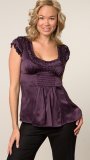 One of the major trends for Spring 2007 is ruffles and bows on absolutely everything. These cute and feminine touches are accenting everything from purses to shoes lately.
The newest trend for spring when it comes to girly embellishments is the ruffled blouse.
Blouses like the purple top above (Nannette Lepore – $242) and the white top on the right (Joie – $105) are splurges, but there are affordable options as well.
This yellow top (below) by dELiA*s is an adorable version of the same style, for a fraction of the price ($32.50). Plus we all know yellow is a hot color for spring.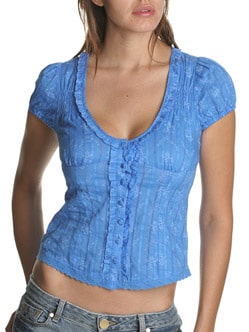 Ruffled blouses are a very springy trend – they're cute, fun, and mostly affordable.
Another great example of an affordable ruffled blouse is this blue one from Guess? (on the right.) It's $59 which is a little more expensive, but it's so adorable and versatile that I think it's worth the slight splurge.
Will you be buying a ruffled blouse this season? Leave a comment.