This month, College Fashion is covering all the biggest trends for spring. In case you missed it, last week, we talked about Boho Chic. Today it's all about another one of the biggest spring trends for 2008: layers of sheer fabrics.
The transparent look was all over the Spring '08 runways at BCBG Max Azria, Monique Lhullier, John Galliano and Stella McCartney. Delicate fabrics like chiffon were mixed with muted colors and pastels to create a fairy-tale inspired look that's ultra feminine and so much fun to wear. It's really whimsical, ethereal, and not to mention sexy.
Note that the transparency trend isn't about showing your underwear off, but about covering up using a few slightly see-through pieces layered over solids. It's sexy in a subtle way, as opposed to when someone's outfit screams "my clothes are see through!" Here's how to wear it right.
How To Wear Sheer Fabrics:
Sheer Tops and Tunics are an easy and affordable way to try this trend out and incorporate a little transparency into your look. Sheer fabrics look great as blouses and dressy tops, or as mini dresses worn over leggings or shorts. If you're going to wear a sheer top, however, make sure you wear a non-sheer tank under it, and check your outfit in bright light to avoid your bra showing through!

From Left:Mesh Sequin Trim Top ($9.99) , Kimchi & Blue Printed Chiffon Cami ($58), Double Lined Crochet Trim Dress ($29.50), Split Tiana Tank Top ($36), Sheer Ruffle Neck Top ($24.50)
Sheer Dresses are the epitome of what this trend is about. They're so girly and romantic, especially in muted colors or pastels. There are tons of dresses out there that have sheer elements to them, like a layers of chiffon, but a DIY way to wear this look is to buy a sheer slip and layer it over another dress. You can find sheer slips for next to nothing at vintage stores, so they're a great option if you're on a budget.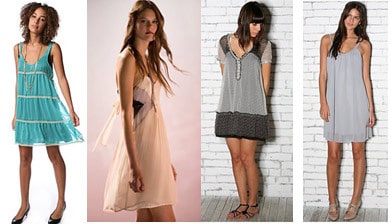 From Left:Sparkle & Fade Parfait Slip ($32), Lux Seeing Stars Dress ($78), Kimchi & Blue Pieced Chiffon Blouse ($58), Lux Spiral Chiffon Dress ($48)
Neutral Shoes keep your look subtle and soft. Look for heels or flats in colors like beige, white, tan, powder blue and lavender. Also, metallics are still hot this season so gold and silver heels and sandals are stylish choices as well.

Top Row – From Left:Cobian "Dixie" ($38), Unlisted "Store Front" ($45), Steve Madden "Hectic" ($89.95), Skechers "Voodo" ($46), Nine West "Sabino" ($83) Bottom Row – From Left: Steve Madden "Skorch" ($69.95), RSVP "Cassidy" ($70), Seychelles "Wait For No One" ($84), Kenneth Cole Reaction "Hopefully" ($93), Tribeca "Central Point" ($63)
What do you think of the sheer trend? Do you love the look or are you a little freaked about the idea of see-through clothing? Are you on the fence? Leave a comment and take the poll below and make your opinions heard!