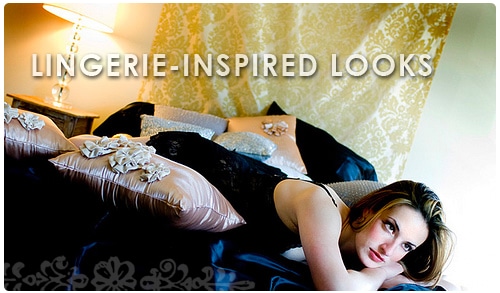 Outfits with bedroom-esque elements have persisted on runways and red carpets for over a year. Inside the industry, such styles are often referred to as "boudoir"-inspired. This spring, I think it's time to see more of this look on campus; to me, it's everything fun, feminine, sexy, and fresh.
We all know what lingerie is, but how has it translated into day-to-day fashion? Here are a few characteristics to look out for.
Corsets
Back in the day — we're talking way back in the day — corsets were necessary undergarments that women used every day. Women counted on these to define and accentuate their figures, although wearing them was no fun. Fortunately, the corset top has pretty much done a 180 since those days — now they're a fun, easy, comfortable way to dress up an otherwise modest or nondescript outfit. You can identify them by their structured shape, and they usually also have vertical stitching over the torso for enhanced definition. This particular one is pretty obviously a corset top, but the inspiration can be much more subtle in other pieces.
(Product: Jane Norman Mixed Lace Seamed Corset)
Sheer Fabrics, Lace, and Satin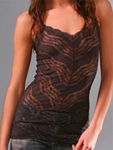 These fabrics still characterize the lingerie that women wear today, so even if the shape of a piece of clothing is nothing out of the ordinary, incorporating any of these fabrics will immediately connote a boudoir vibe. Sheer is an especially popular trend for spring, since it's light, airy, and refreshing. Overall, the key to wearing these fabrics is to recognize the line between what's trendy and what's "too much" — especially if you're trying this out on a college campus. You can be a little more experimental with nighttime looks, but even so, keep in mind that you're going for lingerie-inspired clothing, not lingerie AS clothing.
(Product: Free People Mitered Lace Top)
Nude Colors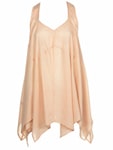 Nudes were hot last spring and now, a year later, they're still going strong. There's something so carefree and effortlessly sexy about this color, that is, if you wear it the right way. To me, nude tones embody the idea of "less is more." Aside from being eye-catching, head-turning solids, nude tones work well as embellishments (especially on black) for accessories, shoes, and cosmetics. Just remember to pair nude items with more high-impact colors, shapes, or textures, to avoid looking washed out. Check out this post for suggestions on incorporating nude into your outfits.
(Product: Topshop Witchy Hem Cover Up)
Outfit Idea: Dress it Up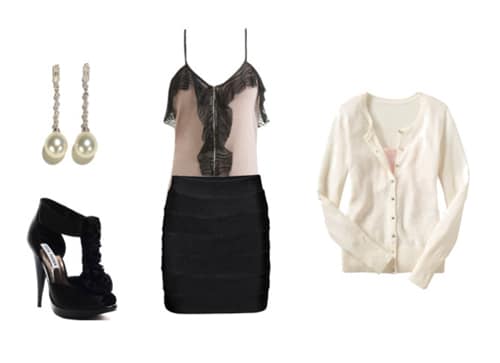 Shoes — Steve Madden, Top — Arden B, Skirt — H&M, Cardigan — Old Navy
This Arden B top looks like it actually could be worn to bed. A sleek bandage skirt immediately transforms the look to evening, while a demure white cardigan keeps the look classy. The black heels are both feminine and assertive, a vibe that perfectly complements the ensemble. Try not wearing a necklace with this look– it'll emphasize the intimate "boudoir" feeling — and go for cute earrings instead.
P.S. I've tried this top on in person — it is super cute, and goes great with skinny jeans for a casual look!
Outfit Idea: Dress it Down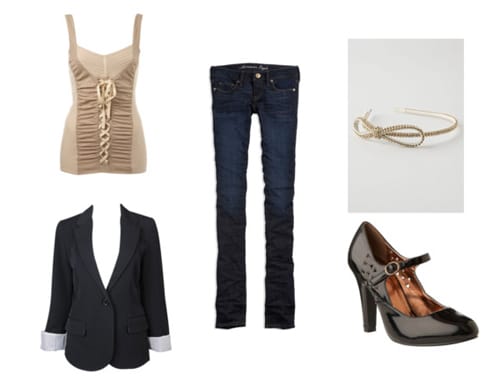 Top – Miss Selfridge, Blazer – Forever21, Jeans – American Eagle, Headband – Anthropologie, Shoes – ModCloth
Lingerie-inspired pieces may be a little (or a lot) bolder than your average v-neck tee, but you can totally wear them in a low-key setting with the right accessories. This top incorporates two elements of the boudoir trend – corset-inspired styling and nude colors, plus an entire row of eye-catching lace-up ribbon and ruching. Jeans keep the outfit casual, and a structured blazer balances out the embellished top. Mary Jane pumps unite the contrasting girly and "boyfriend" pieces, while a simple headband keeps the look soft and whimsical.
More Inspiration
Here are a few more lingerie-inspired pieces; some work great with the outfit ideas I posted above, while others invite even more creative thinking.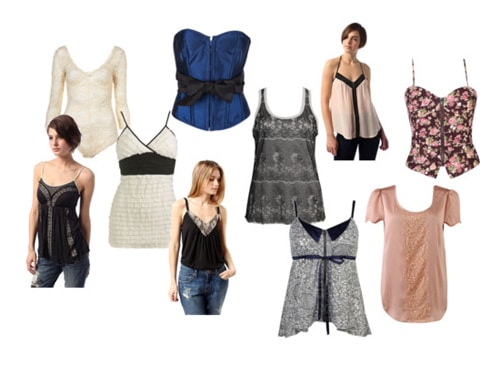 Top Row: Topshop, Republic, Urban Outfitters, Forever21
Middle Row: Arden B, Forever21
Bottom Row: Urban Outfitters, Urban Outfitters, Forever21, Forever21
What do you think?
Will you be trying out this trend come spring? Have you seen this look at all on your campus — or would you be brave enough to pioneer it? Personally, I'm super excited about these pieces, and I can't wait to start incorporating some into my wardrobe. Let me know your thoughts with a comment!