Spring is right around the corner, and all the stores are busting out the spring merchandise in preparation for every warm weather fan's favorite fashion season. But do you know what trends should be in your closet?
If you don't remember those fashion shows way back in September, don't worry about it: we've got you covered. Here's a breakdown of the hottest Spring 2010 fashion trends from runway to real way.
Sporty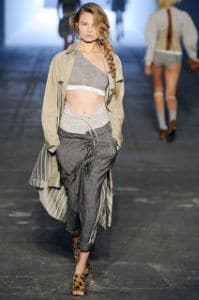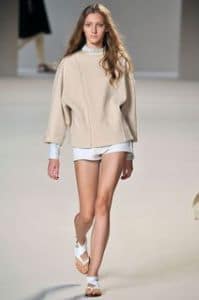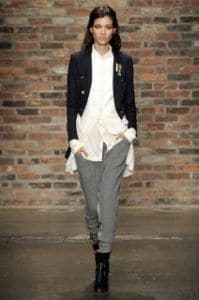 A little prep-school, a little jock, a little street, but always with a feminine twist, the sporty look is super hot for spring. This is probably the most wearable trend we'll see this spring, with comfortable jersey, rugged khaki, and menswear inspired pieces taking center stage.
How to Get the Look
This does not call for pulling out your gym clothes or shopping in the men's department. Instead, the idea is to have clothing that is tailored for women with a nod to menswear. Also remember to keep the proportions balanced: if you are wearing a boxy anorak, pair it with skinny jeans or leggings so you aren't drowning in the clothes. And to tone down the masculinity, incorporate a touch of femininity such as a pink shoe or a bow headband. Finally, wear this look with a good helping of nonchalance: it's supposed to be simple and unfussy.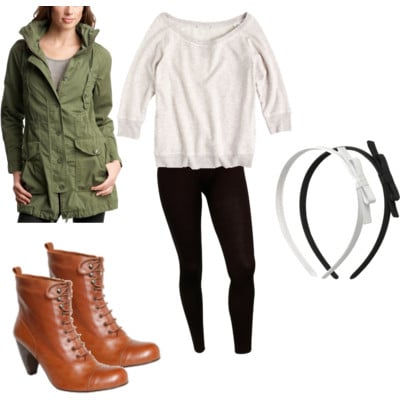 Product Information: Top-Delia's, Shoes-Steve Madden, Headbands-Wet Seal, Anorak-Gap, Leggings-Forever 21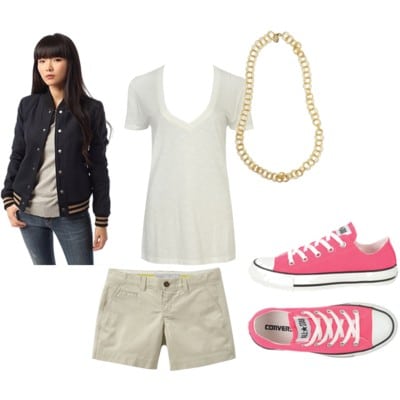 Product Information: Jacket-Urban Outfitters, Shorts-Old Navy, Shirt-Forever 21, Shoes-Converse, Necklace-Betsey Johnson
Boudoir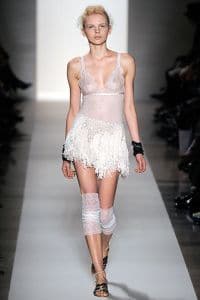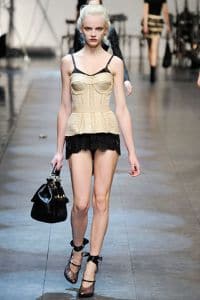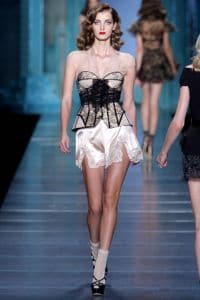 Nude satins, delicate lace, sheer chiffon and sexy bustiers reference the old Hollywood screen sirens, and couldn't every girl use a little bombshell in her life now and then? As Tiffany pointed out, the unabashed feminism of lingerie is in for spring, and it serves as a lovely counterbalance to that "borrowed from the boys" look.
How to Get the Look
While the underwear as outerwear trend is certainly not for the faint of heart, when done subtly and with class it is certainly eye-catching. Just remember to keep the skin to a minimum: this look is plenty alluring all on it's own.
Go all out with a lace dress and vampy lipstick for a Saturday night out. For daytime, stick with one lingerie piece per outfit, such as a bustier top under a cardigan.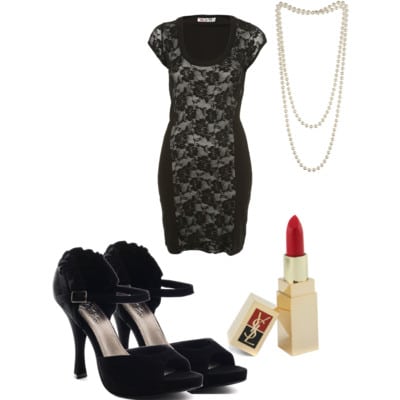 Product Information: Dress-Topshop, Shoes-Heels, Lipstick-Yves St. Laurent, Necklace-Dorothy Perkins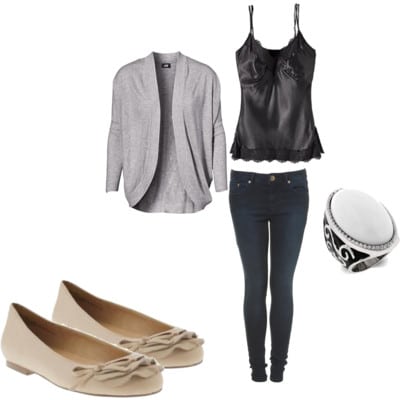 Product Information: Cardigan-H&M, Shoes-Piperlime, Jeans-TopShop, Tank-Spiegel, Ring-Fantasy Jewelery
Americana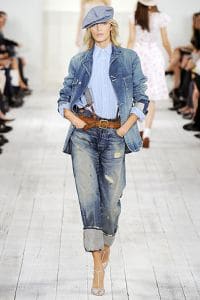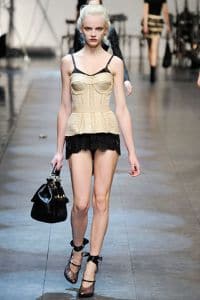 From Chanel's barnyard runway complete with a romp in the hay to Ralph Lauren's blue collar denim ensembles, there was a return to the rustic American lifestyle on the Spring runways. Denim on denim, florals, and western-inspired pieces look equally at home on the farm or in the city.
How to Get the Look
This look just screams spring and is almost impossible to mess up. So pull out your faded jeans, cowboy boots, and pretty sundresses to become a laid-back American sweetheart. For a denim on denim look, choose two very different washes to avoid the "Texas tuxedo" look. Also, toughen up a sundress with rustic clogs, a pair of worn in boots, or a (temporary) tattoo a la Chanel. Finally, avoid bell bottoms, embroidered denim, and dresses that look like they belong in Little House on the Prairie. Even if the look is rustic, it is still modern, sleek and chic.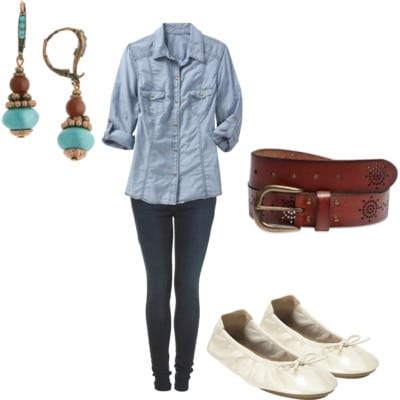 Product Information: Jeans-TopShop, Shoes- Nine West, Shirt-Old Navy, Belt-American Eagle, Earrings-1928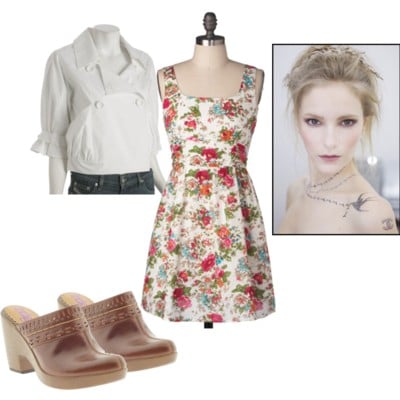 Product Information: Shoes-Piperlime, Dress-ModCloth, Jacket-Bluefly, Tattoos-Sephora
Futuristic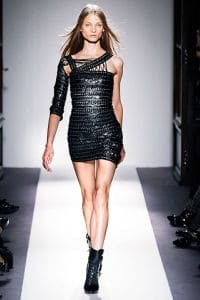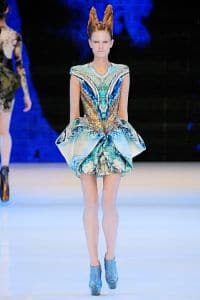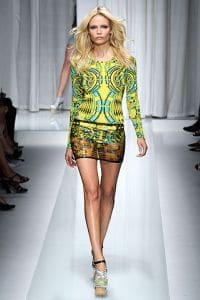 It's back to the future for Spring with metallic fabrics, kaleidoscopic patterns, and the return of the futuristic warrior. Bring out your inner she-warrior in these edgy ensembles. Just realize that with this trend, you're bound to be the center of attention.
How to Get the Look
If you're a risk-taker and want to turn heads, this is the look for you. Look for anything with a sheen, military details, leather, or architectural silhouettes. Also, if you're going to go for it, GO FOR IT. This is all about extremes.
If you want to wear this look to class, try combining textures instead. Metallics, fur, leather and plastic in one color will tone down the look but still give an urban warrior vibe. Of course, if you just want to dabble, try out the fierce accessories. A pair of platform booties, a bib necklace, or a cuff bracelet can instantly make jeans and a tee look haute couture.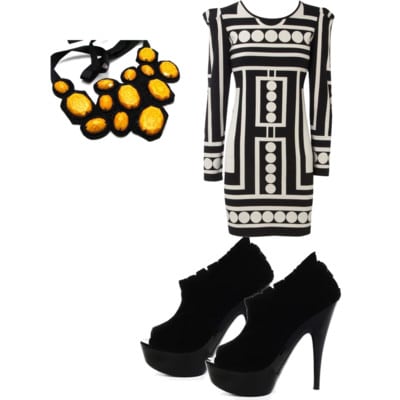 Product Information: Dress-Oasis, Booties-Heels, Necklace-Fantasy Jewelery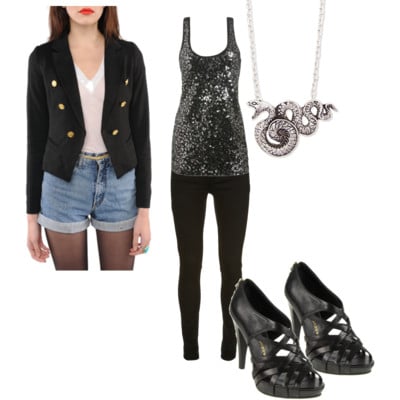 Product Information: Top-Wet Seal, Jacket-Nasty Gal Vintage, Shoes-Chinese Laundry, Necklace-Plastic Land
So What Do You Think?
What Spring 2010 trends do you love or hate? What are you excited to wear this spring? Have you started your spring shopping yet? Give a shout out in the comments!