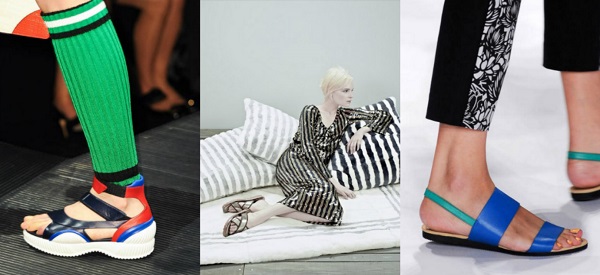 Photo Credits: 1. Prada Spring 2014 via ELLE, 2. Marc Jacobs Resort 2014, 3. Band of Outsiders Spring 2014 via ELLE
In case you haven't heard, I'm just gonna tell you: Birkenstocks have returned. To many, this concept is a little perplexing. How could these chunky, awkward, and – dare I say it? – ugly shoes be the hottest thing in female footwear? But after seeing the Spring 2014 lineup of fashionable shoes, opinions are bound to change.
Inspired by the Birkenstock trend, sport sandals, as the fashion elite has dubbed them, are athletic slip-on shoes andthe footwear of choice for spring. Don't expect street style mavens to rock them with sweats and hoodies: surprisingly, designers sent them down the runway with formal dresses and suits.
Fashion houses differentiate their sport sandals with bold colors and metallics, ankle straps, and even pairing them with leg warmers or socks. Some design houses, like Prada, added huge foam soles to amp up the athletic factor. However, all of them have the common purpose of being a thicker-strapped alternative to your traditional gladiator sandal.
Is it time to throw out your trusty flip-flops? The survey says not yet. Keep them around, since you never know how quickly you may fall out of love with this trend.
Got the courage to try out the trend for yourself?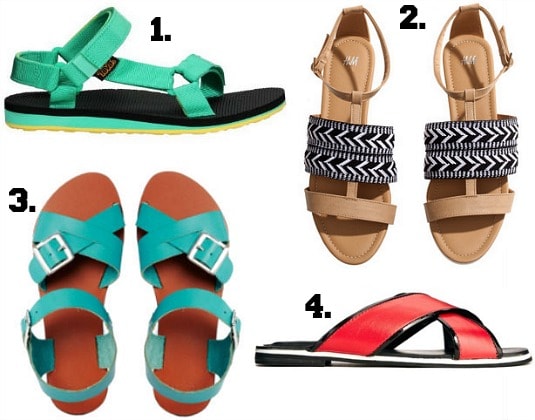 Product Information: 1. Teva, 2. H&M, 3. ASOS, 4. ASOS
Will you be wearing the sport sandal this spring?
Or are these shoes not your taste? If you're going to wear them, are you going to pair them with a suit and formal dress like the designers have shown, or tone it down with a casual look? We're dying to know what you all think about this one, so leave us a comment below!