This is the second post in our mini-series on must-wear colors and fabrics for fall and winter. As stated in the first post on must-wear colors, we reviewed what smart (in a fashion context) means for this season: "stylish or elegant in dress or appearance…appealing to sophisticated tastes."
Let's review the 6 must-wear fabrics for Fall/Winter 2009! As with the first post, I hope you can find at least one fabric that you'd like to wear during the season!
1. Velvet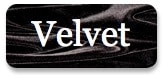 For this fall/winter season, velvet has received a makeover! The velvet of this decade is everything you liked about the 80's/90's versions, but simpler and more feminine. My recommendations for wearing velvet are to stick to one velvet piece per outfit and stick with darker, richer colors or black. Want more information/inspiration? Check out this great article by WhoWhatWear!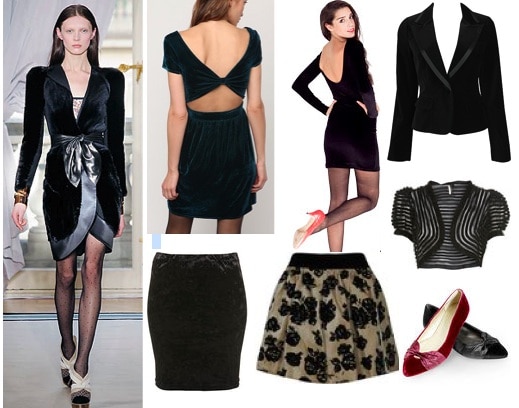 Picture/Product Information (clockwise from left): Balenciaga Fall 2009 RTW- style.com, Kimchi Blue Velvet Bow Dress- Urban Outfitters, Stretch Velvet Long Sleeve Dress- American Apparel, Velvet Black Blazer- Forever 21, Velvet Ribbon Shrug- TopShop, Velvet Flats with Satin Ribbon- Newport News, Velvet Roses Skirt- Forever 21, Bodycon Velvet Skirt- TopShop
2. Knits (Chunky Knits)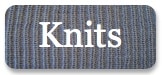 Knitted garments are really in for fall and winter, specifically super chunky knits. The best way to try out this trend would be to try a chunky scarf! However, accessories aren't the only way to go. Keep your eyes peeled for knitted dresses and sweaters! Cozy!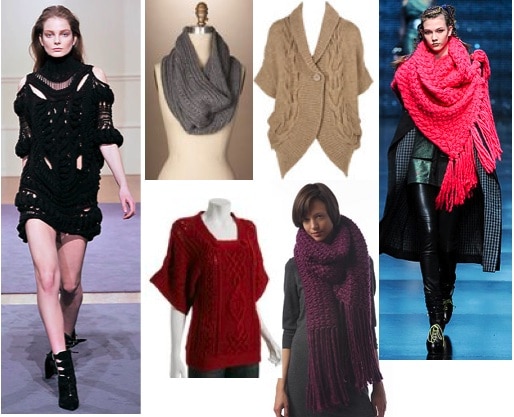 Picture/Product Information (clockwise from left): Julien Macdonald Fall 2009 RTW- style.com, Chunky Knit Gator- Ann Taylor, Chunky Knitted Cardigan- TopShop, Topshop Unique Fall 2009 RTW- style.com, Deena and Ozzy Chunky Blanket Scarf- Urban Outfitters, Design History Cable Knit Sweater in Wine- Bluefly.com
3. Lace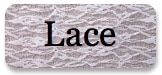 This season, lace will be an accent to artsy pieces. Lace for this season will manifest itself in one of three categories: chantlilly lace, richelieu embroidery, or sequined embroidery. Which look do you like best?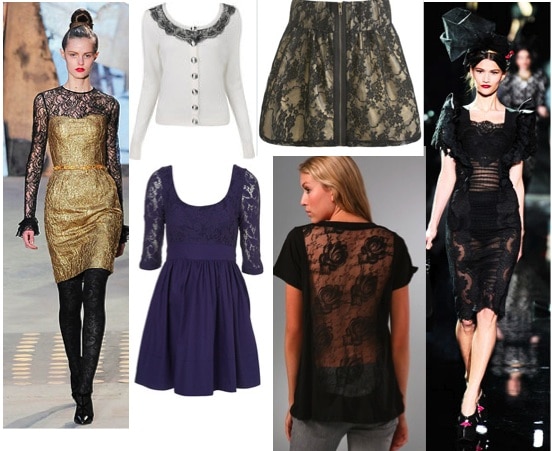 Picture/Product Information (clockwise from left): Christian Lacroix Fall 2009 RTW- style.com, Cameo Lace Cardigan- Forever 21, Exposed Zipper Lace Skirt- Arden B, Lna Lace Back Top- ShopBop, Dolce & Gabbana Fall 2009 RTW- style.com, Petite Lace Poplin Dress- TopShop
4. Leather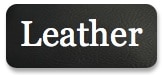 Leather and faux leather are back for another season! Throwing on a leather or faux leather jacket is definitely the easiest way to add a little edge to your effortlessly chic fall/winter look! However, if you already have a leather jacket, or if this type of jacket isn't your thing, try a leather dress like Kate Moss!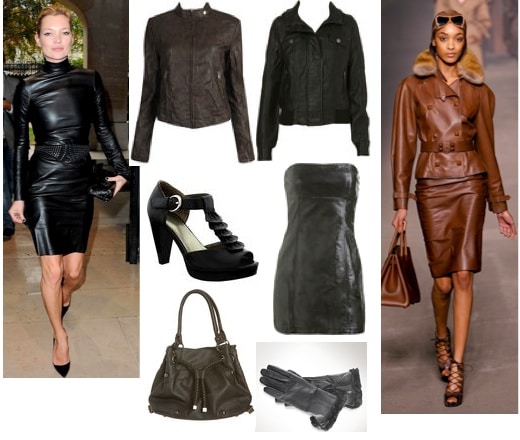 Picture/Product Information (clockwise from left): Kate Moss during Paris Fashion Week- fashionising.com, Crinkled Faux Leather Jacket- Forever 21, PU Hooded Bomber Jacket- TopShop, Hermès Fall 2009 RTW- style.com, Faux Leather Dress- Wet Seal, Leather Gloves with Faux Fur- Ralph Lauren, Women's Ruffle Peep Toe Pumps- Old Navy, Faux Leather Tote- Windsor
5. Silk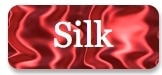 This season, silk will be accompanied by draping and either subtle metallics or rich gemstone colors. Look out for both high sheen and eggshell gloss looks this season! These elements will add to the feminine undertone that silk naturally bears. I think silk is a great option for any fancier dresses you may need for holiday parties!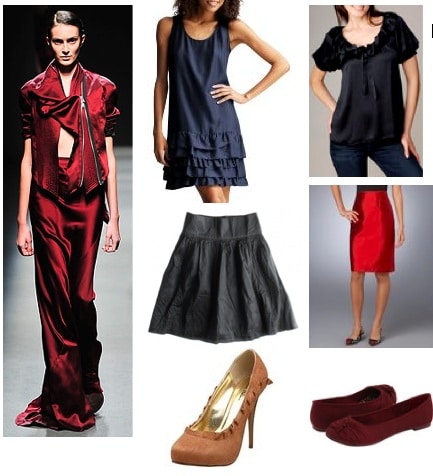 Picture/Product Information (clockwise from left): Haider Ackermann Fall 2009 RTW- style.com, Tiered Silk Dress- Gap, Short Sleeve Tie Front Ruffle Top- 7 for All Mankind at ShopBop, Adrianna Papell Red Silk-Blend Pencil Skirt- Lord & Taylor, Plum Thai Silk Flat- Rocket Dog at Zappos, Michael Antonio Women's Lea Pump- Endless.com, Poufy Party Skirt- Calypso St. Barth
6. Tweed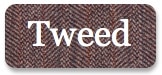 Tweed has a down-to-earth vibe this season. Much of today's tweed is being generated by recycled yarn, so if you're into eco-chic, this might be a good fabric for you to look into (depending on the manufacturer, of course). Tweed will provide a great back-to-basics look to your winter wardrobe.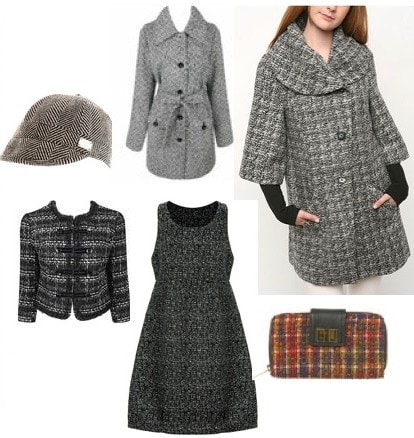 Picture/Product Information (clockwise from left): Tweed Cap- Armani Exchange, Tweed Classic Trench- Forever 21, Silence and Noise Tweed Funnel Coat- Urban Outfitters, Tweed Check Purse- TopShop, Tweed Evalyn Dress- Fred Flare, Rosalyn Tweed Jacket- Forever 21
What do YOU think?
Now that you've become an expert on smart fabrics, what do you think? Will you wear any of these textiles this fall or winter? Which is your favorite? How do you wear "smart fabrics" in your everyday wardrobe? Tell me with a comment!