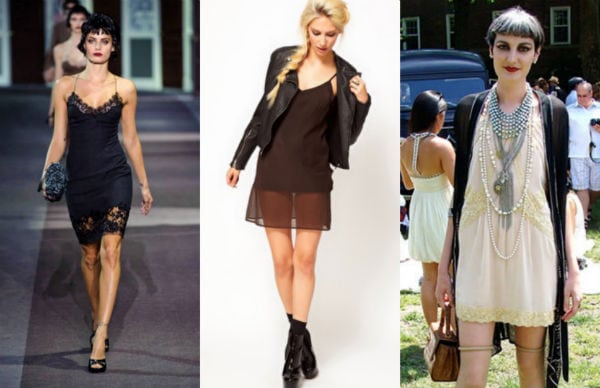 Photo Credits: 1. Louis Vuitton F/W '13, 2. ASOS, 3. ELLE
Barely-there dresses have been sneaking their way into the spotlight recently, so if you covet this saucy style, now would be an excellent time to jump on-board the slip dress trend.
Slip dresses are characterized by thin straps, slinky materials like chiffon, lace, and silk, and well, the sole purpose of being worn as an undergarment. Rather than wearing them to laze around an abode, fashion-forward girls have been bringing them out as the bread and butter of their outfits. Pairing them with tights, booties, and chunky sweaters is an incredibly popular look.
While this trend may not be the best choice for events on campus, wearing a longer slip dress with a moto jacket and funky jewelry would be a stylish ensemble to try for a night on the town. However, don't be caught with your underpinnings on the outside for biology class…there are some places your boudoir basics should not be worn.
Would you wear a slip dress?
If yes, how would you wear it? Is this look perfect for a night out on the town or should it be reserved for lounging at home? Do you think this trend will rapidly fall out of style or is it around to stay? Let us know by leaving a comment below.