So I love fall fashion – the textures, rich color, and all that lush fabric. With New York Fashion Week last week, I wanted to cover my favorite trends from A/W '15 before the weather starts to cool!
If you've read any of my style diaries, you'll know I love skirts and dresses – so I've put together outfits built around the skirts I'll be rocking this season. Here's what I've come up with:
1. Patchwork Galore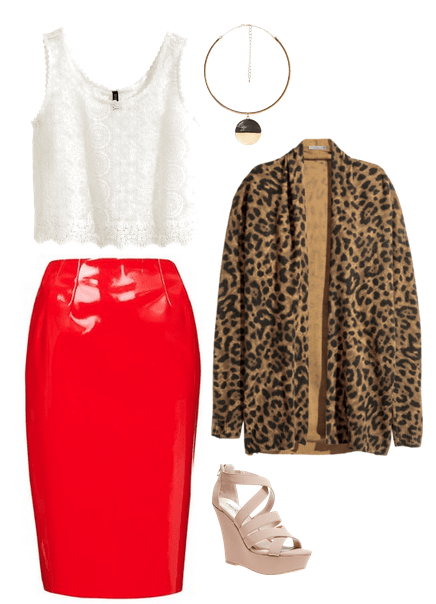 Products: Skirt, Tank, Necklace, Cardigan, Heels
If you thought vinyl was the stuff of cheesy '80s movies, prepare to see it completely refreshed this season. Vinyl always looks slightly costumey, but if you embrace its theatrical flair and mix it with understated classics, it works as a great statement piece. Here, I've gone with a midi skirt in red vinyl, since bright red is set to be the season's 'it' color, and pared it down with a simple lace tank.
This wouldn't be a Janelle post without a bit of experimental flair, though – and since patchwork and juxtaposition are key words this fall, I went with a killer leopard duster cardigan. Animal prints were splashed in neons all over the runways, but the classic leopard print is something you'll reach for season after season.
2. If I Were A Tenenbaum…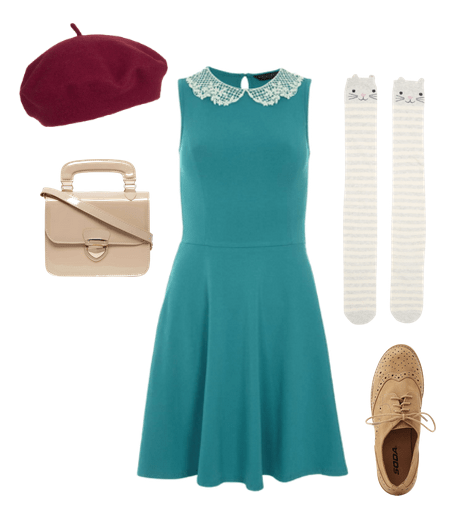 Products: Dress, Beret, Bag, Socks, Shoes
If you've ever wanted to look like a Wes Anderson heroine, this is your season. There was a lot of geek-chic runway inspiration, but I went with my best Suzy Bishop interpretation because I love everything about her look. (If you're more of a Margot Tenenbaum girl, I've got a killer fur coat for you in a bit!)
Peter pan collars are a total closet staple in my book, but there's never been a better time for them than now. Then pull on your best knee-high socks and oxfords – bonus points for berets!
3. Havisham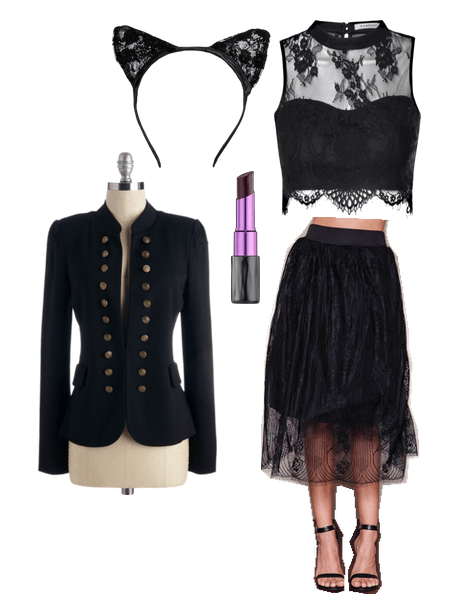 Products: Coat, Hairband, Top, Skirt, Lipstick
McQueen and Rodarte are two of my favorite designers, and their A/W 2015 collections both featured moody black lace and ruffles. This outfit is a little theatrical and over-the-top, but I went with separates here instead of one-pieces so you had options. The crop top would look incredible with a pair of white boyfriend jeans, and this dramatic tulle midi would look amazing with a sweater.
To vamp up the 19th-century vibes, I went for the outfit version of Satis House in Dickens's Great Expectations and pulled in some dark berry lips. Since military shapes are on the front line this fall, this structured jacket is an interesting take on all the lace. It's also a really great statement piece to throw over jeans and a t-shirt!
4. In Fur We Trust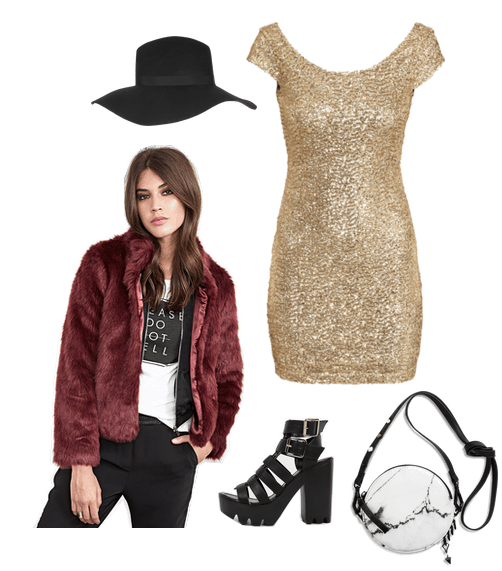 Products: Hat, Coat, Dress, Heels, Bag
Fur is always on the A/W runways – and for good reason. It instantly elevates any outfit, and designers presented lots of lush, fluffy coats in bold colors this season. If you're getting your first faux fur, I would recommend something in a 'natural' color – white, cream, black or brown – but if you're looking to step out of your comfort zone, red is always a great place to start.
Another really hot trend this season is the black and white graphic print – interpreted here in a marble-print crossbody. When paired with the head-to-toe sequins spotted at Marc Jacobs and Ralph Lauren, you're basically holiday party-ready.
Your Turn!
What are your favorite trends from this season? Which trends are you excited to try? Are you loving the whole throwback vibe the runways keep presenting us with of late? Let me know in the comments!
A final note: This is going to be my last post for CF after nine months (lots of sad emojis). It's been a total dream, and I'm so glad I got to connect with so many of you! Thank you for such an amazing experience.