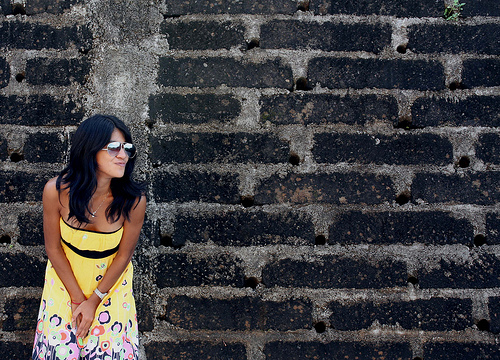 While summer may be coming to a close for those of you with early-starting semesters, it doesn't mean you still can't rock some of summer 2012's hottest trends for back to school. In fact, many stores are having sales right now catering to this transition period between the summer and fall lines. With all these stylish, trendy items tempting us beneath a "40% off" sign, how do you know which one is best for you? Well, have no fear because CF has you covered once again.
To find out which summer 2012 tend you should try, just take this fun quiz below! Once you get your answer, find your letter and corresponding result below for a sample outfit based on your personality type.
Quiz: What Summer 2012 Trend Should You Try?
Quiz Results – No peeking!
Below are the results of the quiz. Don't look if you haven't taken it yet! I've created one outfit for each result to help give you some ideas for what to wear. Enjoy!
Mostly A's: High-low skirts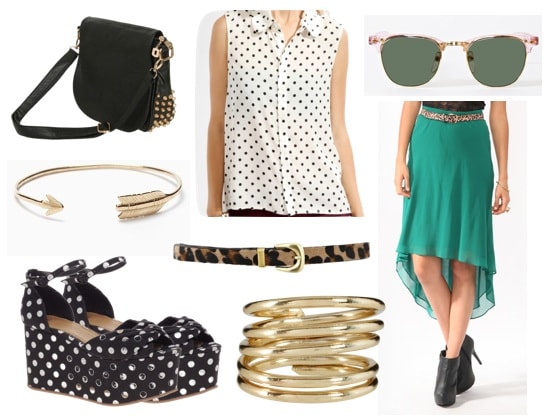 Product Information: Bag, Shirt, Sunglasses, Skirt, Ring, Belt, Shoes, Bracelet
Last year, we were all about the maxi and midi length skirts. And while these two styles are still popular, this year, a new hemline has graced the legs of celebrities, fashion insiders, bloggers, and, of course, college fashionistas around the world. I love high-low (aka asymmetrical or waterfall) skirts because they are the epitome of flirtation: showing a little leg is always sexy, but this style is also modest enough to be appropriate for most occasions.
For this look, I started with this beautiful teal skirt and paired it with a polka-dot sleeveless shirt. I loved the picture of the skirt paired with a leopard print belt, so I decided to keep the belt for this look. Next, I found some contrasting polka-dot flatform sandals that are beyond adorable. Lastly, I finished the look with some key accessories like a studded bag, an arrow bracelet, sunglasses, and a ring.
Mostly B's: Leather
Product Information: Bag, Shirt, Skirt, Shoes, Ring, Watch
Leather is an iconic textile in fashion that is surely here to stay. This year, however, we have seen designers use leather for more than just jackets and riding boots. Skirts, dresses, pants, and shorts have all been made of leather (or, even better, faux leather, our personal preference for budget and ethical reasons), and we love it.
And I know some of you who live in hot climates might be thinking we are crazy to suggest wearing leather in summer. But use your judgement, ladies: if it's too hot for this trend during the day where you are, try it on a cooler night out instead!
For this look, I wanted to find a faux leather piece that would work well in summer temperatures, and I found it in this faux leather skirt. To ensure that this look does not provoke memories of Julia Roberts à la Pretty Woman, tuck in a whimsical printed top, like this sunglass-printed one. Finish the look with a bold bag and some hot red slippers, and playful jewelry like this ring and mustache watch.
Mostly C's: Mixed Prints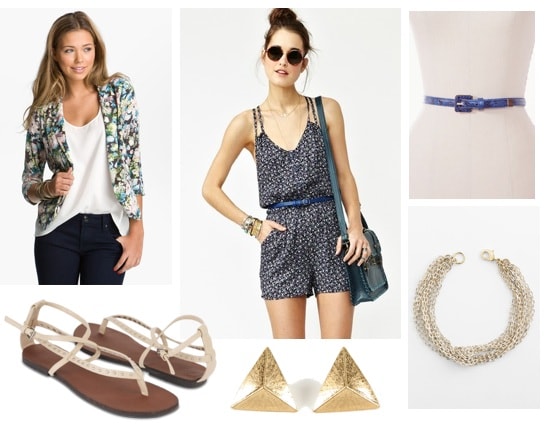 Product Information: Jacket, Romper, Belt, Bracelet, Earrings, Sandals
This summer, mixing and matching prints has been all the rage. And unlike in the past, this season, it's all about finding the boldest, most outrageous patterns possible to combine.
For this look, I started with a floral print romper and cinched it with a blue snakeskin belt. Now comes the tricky part. To keep the outfit looking fresh and stylish without appearing crazy, mix the floral print romper with a piece in a coordinating print that is similar in color and contrasting in size. This large printed floral jacket fits the bill perfectly. With such a bold look already going on with the clothes, keep accessories understated by adding simple touches like this bracelet, these studded earrings, and neutral sandals.
Mostly D's: Neon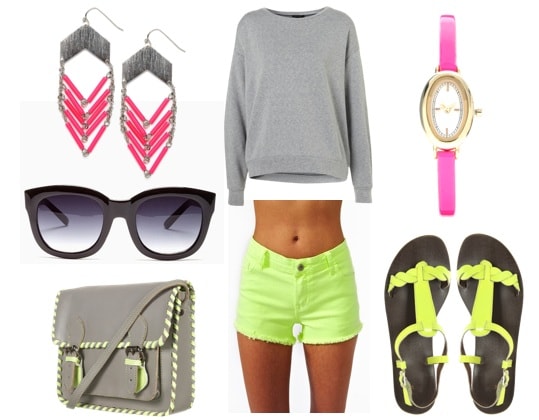 Product Information: Earrings, Sweater, Watch, Sandals, Shorts, Bag, Sunglasses
No summer 2012 trend roundup would be complete without mentioning neon — it has been everywhere this season! And while my mom likes to remind me how her generation wore neon first back in the '80s (matching scrunchies included), we have found our own way to rock the trend 30 years later.
For this look, I started with a pair of neon yellow shorts (you could also swap them out for a pair of pants in a similar hue if you prefer). To keep from appearing like you lost a battle against the highlighters in the back-to-school aisle, pair these bold bottoms with something neutral like a grey sweater. But because this look is all about the neon, I wanted to add in some more brightly hued elements, so I utilized accessories, like these pink earrings and watch, these yellow sandals, and this grey bag outlined with neon yellow stitching. Lastly, finish the look with some classic black sunglasses.
What do you think?
Did you enjoy this quiz? What was your result? Do you think it matches your personal style? Which trend is your favorite of these four? Do you have any other favorite trends from this summer? Which outfit do you like best? Let us know what you think by leaving a comment below!